It's all been a bit quiet from the Mizuno camp since the start of the new season – after the launch of the Wave Ignitus, Supersonic Wave and Morelia Ultralight Mizuno have kicked back and watch their stable of players slowly grow.
But sure enough, Mizuno are back with a whole host of new colourways for their key football boots!
The first one we'll be looking at is the flagship Wave Ignitus – a boot that we have great fondness for here at Footy-Boots.com, having rated it highly on our in-house boots test, and we know you guys love it too having rated it as the 3rd best football boots of 2010 in our Football Boots Awards!
Mizuno have given the Wave Ignitus a really fearsome look in this Black/Gold/Red colourway. A far cry from the bright and friendly Yellow/Black launch colourway, the Wave Ignitus looks seriously mean n' moody as Black and Red dominate the upper.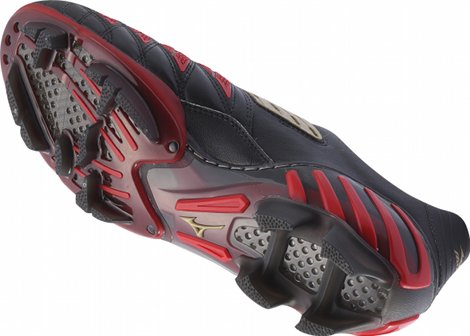 But it's the little things that really sell a new colourway to us; while we're always excited to see our favourite football boots with a new colour combination, Mizuno have used the new colourways to embellish the little details that set the Wave Ignitus apart from the crowd.
For instance, the triple-density Pebax heel-counter has it's outermost layer a completely opaque red – making the finger-like obtrusions look like veins, whilst at the same time drawing your attention to the feature.
Also making full use of the scheme is the Mukaiten panel on the instep, which Mizuno have coloured metallic Gold, highlighting this awesome feature.
The Mizuno Wave Ignitus has firmly established itself as one of the most versatile football boots on the market – tipping the scales at 229g per shoe (only 64g heavier than the adiZero!) and featuring a Carbon Fibre sole-plate the boot will satisfy speed freaks, whilst the unique lacing system and anti-spin panels across the boot will give power players something to really get their teeth into!
Mizuno haven't given us an exact date for release yet, but we've been told early December – so not long to wait!
So, what do you think to this latest colourway from Mizuno? Can you take the Wave Ignitus more seriously now it's not bright yellow?
Let us know using our ever-handy boot-o-meter!
MIZUNO WAVE IGNITUS – BLACK/GOLD/RED, 9.4 out of 10 based on 23 ratings