Luke Donald, Sally Gunnell, Dwight Yorke and other leading Mizuno ambassadors today launched the Japanese brands innovative new Performance Centre.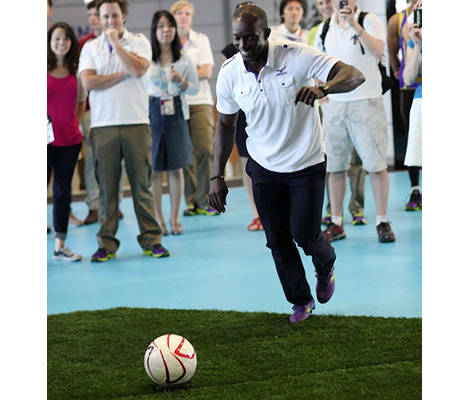 Opening at central London's iconic Centre Point building the pop up experience welcomes both Londoners and city visitors alike through its doors between 24th July and 12th August.
Mizuno's high-tech pop-up store is designed to give visitors a chance to try out some of the biggest and best innovations that Mizuno have released in time for this Summer's big sporting schedult.
Demonstrating the state of the art activity zone supplied by GlobalGames Sports, former Manchester United striker Dwight Yorke showed off his skills in the specially made football area whilst renowned England Rugby Sevens speedster Dan Norton went head to head with an augmented reality version of himself on the 20m track.
And GB Handball players Simon Wittlin and Heidi Møller let loose on the handball court showing the gathered crowds what the sport can offer. Elsewhere in the specially designed space, visitors took advantage of the free biomechanical running analysis and tried out a variety of Mizuno sports products.

"I'm thrilled to be opening the Mizuno Performance Centre ahead of what will be a brilliant summer of sport" said Akito Mizuno, President of the Brand. "We believe the iconic status of the building is a perfect reflection of the Mizuno brand. Our customers have a wonderful opportunity to try out the latest Seiei Collection products, interact with our sports stars and explore more about our Japanese heritage in what will be a truly exciting day out for all the family."
As a company founded in Osaka by brothers Rihachi and Rizo Mizuno in 1906, Mizuno has evolved from a small shop selling sporting sundries to a worldwide multisport network consistently crafting revolutionary technical goods to improve elite sporting performance. Despite their global growth, Mizuno has stayed loyal to the values and beliefs upon which it was founded and the Performance Centre showcases a wonderful blend of Japanese culture and advanced modern sports technology and innovation.
In short, if you're in London this summer, why not drop in to the Mizuno Performance Centre and try out the Mizuno Morelia Neo in the football area? It's one of the only places in the capital you'll be able to physically buy Mizuno football boots, and one of the only 'try-before-you-buy' football stores on the planet!
Find out more about what is going on each day and to take part in all of the activities with prizes to be won, register online at www.mizunoseiei.com.