The Mercurial line has had it's fair share of ostentatious colourways, but if there was one combo that was ever the 'classic' Vapor livery, it would have to be Black and Yellow.
Whilst it might not be an exact match, the Mercurial Vapor VIII – Seaweed / Volt comes pretty darn close.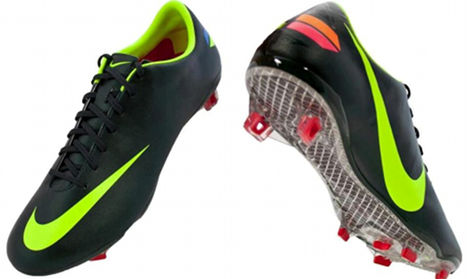 After a scoring-chart-topping performance at the European Championships in the Solar Red / White Clash Collection colourway, the Mercurial Vapor VIII is back to dominate the new European season in this more reserved Seaweed / Volt combo.
Whilst it looks black from a distane, the Mercurial Vapor VIII – Seaweed / Volt is actually tinged with a very deep green, giving them a wonderful feel of depth to the colour.
Speaking of feel, the Vapor VIII – Seaweed / Volt follows the Clash Collection Vapor in having a leather-like finish to it's upper, different to the suede-finish of the two launch colourways.
Widely reported to be less prone to scuffing (one of the few negatives we found when we reviewed the Vapor VIII), the leathery finish to the upper retains the thin teijin synthetic but adds a more natural texture for superior feel on the ball.
As this is a Vapor we're talking about, this is a cleat designed to be all about speed. Completely stripped-back to a slipper-like fit, the Vapor VIII tips the scales at 180g.
A dual-layer glass-fibre soleplate provides supreme flexibility the the forefoot, whilst reenforcing the heel and midfoot and offering exceptional elastic return.
The newest Mercurial Vapor also boasts a unique FG stud configuration with only two studs in the heel, resulting in a boot that offers an unprecedented level of off-the-toe traction.
Additionally, the Mercurial Vapor VIII – Seaweed / Volt will be the first Vapor VIII to be available with the SG-Pro stud configuration, for the same level of soft-ground traction as Cristiano Ronaldo, Mesut Ozil and many more.
Retailing for £160 or $220 US, the Vapor VIII – Seaweed / Volt ships on August 2nd, but is available to pre-order now.
MERCURIAL VAPOR VIII – SEAWEED / VOLT, 9.2 out of 10 based on 78 ratings