England last night crashed to a 3-2 home defeat against Croatia ending their hopes of qualifying for Euro 2008 and leaving manager Steve McClaren out of a job.
McClaren, who was appointed on August 1st 2006, has never won over the majority of England fans, after serving as understudy to Sven Goran Eriksson during his distinctly average tenure. The former Middlesbrough manager did little to enhance his managerial reputation during his time at the Riverside and most football supporters were mystified when the FA hierarchy appointed him in the first place.
Remarkably the England manager last night expressed his desire to continue in his role, though the FA has this morning acted quickly to end his reign, attempting to regain some shreds of credibility after such a poor appointment. McClaren's reign is the shortest in the history of the England national team.
With the announcement of McClaren's sacking the FA continue their recent trend of having to shell out large compensation packages to manager's who have simply not been up to the job. The FA must have deep pockets, McClaren is expected to receive a £2.5 million payoff, following predecessor's Sven Goran Eriksson's pay off which ran into the millions.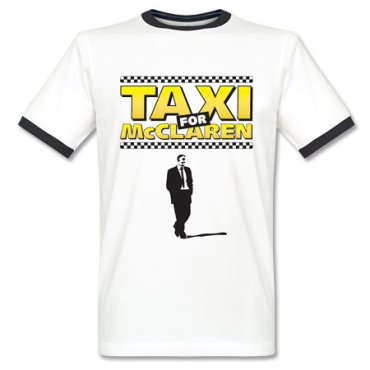 We here at Footy-Boots.com have always been vocal in our opposition of Steve McClaren's appointment as England boss, so much so that we have been stocking a 'Taxi for McClaren' t-shirt in the Footy Boots shop. You can celebrate the sacking of Steve McClaren by clicking here to buy your 'Taxi for McClaren' t-shirt.
All the blame however should not be laid at the manager's door. True it was McClaren who picked the internationally inexperienced Scott Carson in such a critical game, whilst leaving out big game player David Beckham, but surely the rest of England's so called 'golden generation' should have been up to the job. It is a manager's job to motivate his troops, but isn't playing for your country motivation enough? In short, England didn't turn up last night, as they haven't for most of this qualifying campaign.
The new manager, whoever he may be, will first have to address the problem of why so many of these multi millionaire players who perform week in week out for their respective club teams too often fail to perform on the international stage.
England fans, players and the manager are not the only ones crying into their cereal this morning. As reported on Footy Boots over the last few months, England's failure to qualify for the Euro 2008 championships would have dire consequences for the economy, with British high street shops and companies losing out on a potential £1 billion pounds.
Football boot brand and England football shirt supplier Umbro has more to lose than most and has today confirmed that "2008 sales revenues will be hit by a substantial reduction in expected sales volumes for the new England away football shirt."