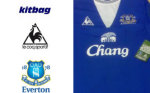 Everton FC have announced the biggest commercial deal in the club's 131 year history.
The Goodison Park side has signed a 10-year agreement with Kitbag Limited, Europe's leading online sports retailer, to provide exclusive retail services on a global basis. The new agreement is expected to generate in excess of £30 million over the duration of the contract.
In addition to the deal with Kitbag, the new retail arrangement for Everton includes a sports marketing agreement of up to five years with Le Coq Sportif which will generate £3 million.
Kitbag Limited, whose existing portfolio of clubs includes Manchester United, Barcelona and Real Madrid, will operate under a bespoke Everton retail brand and will be directly responsible for high street shopping, mail order and the club's online store.
Their vast experience in online sports retail will see the introduction of one of the most innovative football shopping web platforms in existence.
The deal will also mark a spectacular return for Everton retail in Liverpool City Centre with the opening of a new flagship store in the £920 million Liverpool One complex.
The new City Centre outlet will be the sister store of a fully refurbished retail operation at Goodison Park.
Chief Executive Officer, Robert Elstone said:
This new and exciting partnership represents real and tangible progress in the retail arena for Everton. It is, and will remain, a key area of the Club's overall business and therefore it was crucial to find the right partner. I believe we have done that with Kitbag Limited.
Their pedigree in sports retail is first class – there is a refreshing progressiveness and ambition about their organisation and the way in which they run their business – one that I believe compliments ours.'  It will undoubtedly benefit Everton and our supporters for many years to come.
There has been a significant amount of investment in this partnership from Kitbag already and it further demonstrates the ambition to improve our retail brand, our product ranges and customer service levels.
Everton have also revealed that the Le Coq Sportif brand – worn 25 years ago during the club's most successful season – will be the official and recognised technical partner for the 2009/10 season.
Everton's new retail arrangement sees the club part company with JJB Sports with whom they have enjoyed a strong and mutually beneficial relationship since 2004.
Elsewhere, Corriere della Sera reports that there is interest from Fly Emirates in becoming the new official shirt sponsor of AC Milan. The company could replace current sponsors Bwin after their contract – worth 10 million Euros per year – expires in 2010. It's also said that they are interested in financing the construction of a new stadium.
Furthermore in Argentina, River Plate and Adidas unveiled the club's third shirt for the 2009/2010 season. The stylish silver/ grey shirt with thin horizontal lines is inspired by the away shirt from 1986, which was used when River became champions of South America and the world.
For all the latest football shirt news, visit footballshirtculture.com
By James Bailey