As we recently reported on Footy Boots, you fans are keen to see football clubs change their kit on an annual basis.
You'll therefore be delighted to find out that Manchester United will be using a newly designed third kit for the new season. And it's based on a famous night in United history.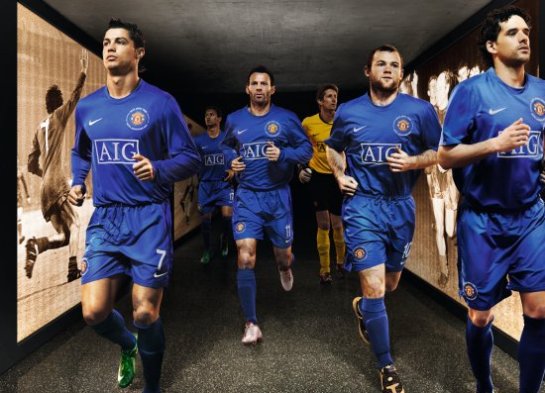 In 1968 Manchester United made history in becoming the first English team to lift the European Cup when they defeated Benfica 4-1 at Wembley Stadium. Before the game it was agreed that Utd would play in their Blue away kit as both teams home jerseys were red.
To celebrate the 40 year anniversary of this momentous night Nike has created a kit worthy of that great team and their great night at Wembley. Taking inspiration from that first European Cup win and the Busby Babes, Utd will wear blue as their third kit for the 2008/09 season inspired by the famous 1968 victory. The kit will also be their preferred kit for this season's Champions League away matches.
The shirt includes a number of details that celebrate the anniversary including the embroidery of the words "May 29th 1968" and "40th Year Anniversary" around the club crest.
The kit uses Nike Fit fabric technology, first used by Nike in national team kits worn by Nike-sponsored teams in the 2006 World Cup. This technology is designed to enhance player performance by wicking sweat through the material and away from the skin.'  A full mesh back on the player's jerseys also aids ventilation.
Rio Ferdinand said: "When you look at the final image you will associate it with the great team of 1968 with the likes of George Best and Bobby Charlton. Obviously they won the European Cup in blue so we hope we can walk in their shoes again with this kit. It's such a big part of the history of the club".
Ryan Giggs was also suitably impressed saying "I'm very impressed. It's good to have a kit to celebrate the 40th anniversary of that amazing night. Obviously that was a great night for the club and there is a massive history behind the game and the players who played that night. It's great that we can commemorate that history with this kit. For it to look so good and be the same colour as the kit from back then is a testimony to the designers and I think the lads will like it"
If you like it, the kit is available for pre order from today. ORDER NOW