Umbro today unveils the new home kit that the Manchester City squad will wear for the 2010-2011 season.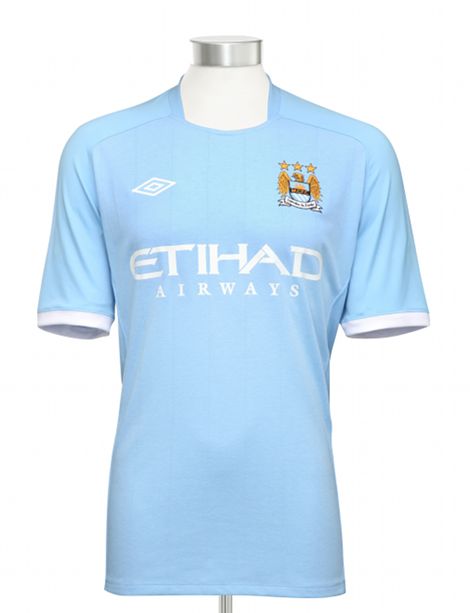 Taking inspiration from some of the classic City kits of the past, the new Manchester City home shirt 2010-2011 builds on the smartness and tailored principles of last season™s kit but adds an increased performance element and crisper style.
Umbro has listened to fans feedback on the successful 2009 home shirt and considered their thoughts into the new design. A crew front collar has been added for comfort and a pinstripe effect has returned to the front panel in reference to some of City™s finest moments of the past when they wore a striped shirt.
In fact, the stripes on the Manchester City home shirt 2010-2011 are the same dimensions as those on the club™s 1968/69 shirt. The sleeves on the shirt are made in a ˜raglan™ style, with one piece of fabric continuing all the way to the neckline.
Made from a stretch fabric, the sleeve assists articulation of the arms. The white cuffs on the shirt take their inspiration from some of the 1970s City strips.
Created with a maroon hoop in another reference to City™s heritage, the home socks add to the overall classic style. There was a particular picture of Colin Bell wearing similar socks which inspired Umbro™s design team here.
Umbro have also produced a new jacket called the ˜Mercer™ in honour of legendary Manchester City manager Joe Mercer, who steered City to the league title back in 1968.
The limited edition jacket will be worn by current City manager, Roberto Mancini and the Manchester City team at select moments throughout the 2010/2011 Premier League season.
The sky blue jacket features detailed MCFC stitching on the back in maroon and an inner pocket based on that of a suit, emphasises the tailored aspect.
Trevor Cairns, Chief Marketing Officer for Umbro comments: œWe™ve listened to fans™ comments on what they liked about the last home shirt and adding in the traditional City maroon colour is something many of them wanted to see the return of. The resulting aesthetic is smart and a true nod to the club™s heritage.
This release follows hot on the heels of the new Manchester City Away Shirt 2010-2011 that was launched just last week.
The new Manchester City kit will be available to pre-order from www.mcfc.co.uk from 2nd August and to buy from 6th August priced at £45. The Mercer jacket is now on sale for £60.
MANCHESTER CITY HOME SHIRT 2010-2011, 6.6 out of 10 based on 43 ratings