After their well-received maiden effort in the world of football shirts, Warrior hope to make it two on the bounce with the new Liverpool Away Shirt 2012-13.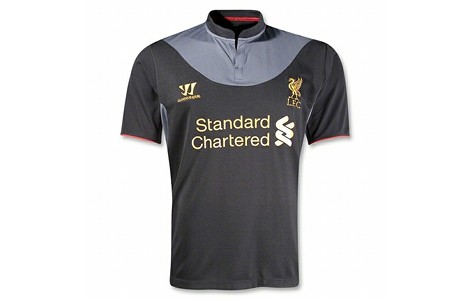 Inspired by Liverpool's away kit from 1900-06, Warrior have once again looked to the club's proud footballing history for inspiration when it comes to their football kits.
Whilst the new home shirt is inspired by the 'Glory Days' of the 1970's and 80's, the Liverpool Away Shirt 2012-13 goes even further back, drawing on over a century of footballing heritage for the Anfield club.
One of the most distinctive features of the Liverpool Away Shirt 2012-13 is the collar and yoke detail, which Warrior say is inspired by sailors and the docks, which had a huge influence on the city of Liverpool in the early 1900's.
Pepe Reina and the rest of the Liverpool Keepers will be easy to identify, as their matching-yoked kits come in a bold golden yellow – a stark contrast to the Black and Grey of the outfield player's uniform.
Receiving the same technological innovations as the traditional red home kit, the Liverpool Away Kit 2012-13 is fitted with Warrior's newly-developed sports fabric, for optimum heat and moisture management, whilst the underarms utilise a special 4-way stretch mesh that moves and flexes with a player's every movement.
Lauching on 2/7/2012, you can pre-order the Red's new change gear from today.
Are Warrior hitting all the right notes with the Liverpool Away Shirt 2012-13? Or does this one fall a bit flat?
Let us know in the comments!
LIVERPOOL AWAY SHIRT 2012 – 13 FROM WARRIOR, 6.7 out of 10 based on 70 ratings