On the day before World Aids Day, Nike called up a hugely impressive cast list as they, along with Bono, announced details of a very special project to fight HIV / AIDS in Africa.
Didier Drogba, Joe Cole,'  Andrei Arshavin, Marco Materazzi, Denilson, Lucas Neill, Clint Dempsey and Seol Ki-Hyeon assembled in London as Nike launched a scheme between themselves and RED.
This unique partnership delivers a two-pronged approach to fight HIV / AIDS in Africa by delivering funds to support programmes that offer education and medication on the ground and will harness the power of sport to engage youth around the world in the fight against AIDS in Africa.
The Nike and RED concept is a simple one that invites people to 'Lace Up. Save Lives' by purchasing a pair of Nike RED laces.
One hundred percent of the profits from will be split equally between The Global Fund to Fight AIDS, Tuberculosis and Malaria, which funds AIDS programmes that provide medicine for those living with HIV, and football-based community initiatives that deliver education and understanding around HIV/AIDS prevention. This unique partnership delivers programs that both medicate and educate.
Progress has been made in the drive to reduce HIV infections in Africa, with fourteen countries reporting a decline in the prevalence of the disease. This is great news and proves the fight can be won. But AIDS remains one of the greatest challenges facing the world today. An estimated 3,800 men, women and children die in sub-Saharan Africa every day, in addition to 6,000 new infections every day among 15-24 year old men and women.
Speaking at the launch, Susan Smith, CEO of RED said:
The fight against AIDS in Africa needs great brands to drive awareness and engagement. Nike is the right partner to connect education with sport, and in so doing help drive social change, prevention and understanding of HIV/AIDS. We are thrilled to have them with us.
Keen boot spotters will have seen a number of Nike athletes wearing the RED laces at the weekend. Indeed, Chelsea's two-goal hero from their 3 – 0 win over Arsenal, Didier Drogba, highlighted the laces in his post match TV interviews.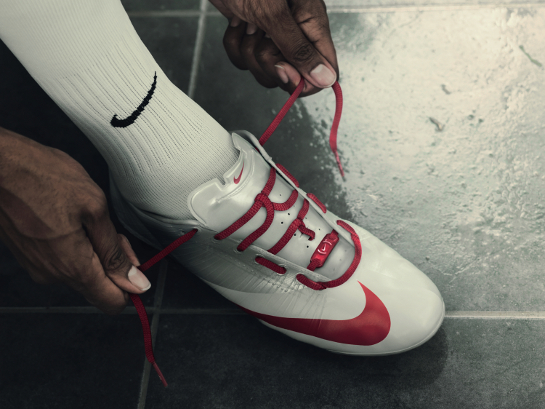 The Nike RED laces will be available from Tuesday (1st December) at Nike Store locations and key retailers worldwide and also at nike.com. Additional Nike RED products will be introduced in the coming months.