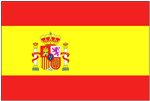 Real Madrid win at home and are now eight points clear at the top of La Liga and while Barca may have come unstuck at the Camp Nou, Rijkaard insists the race for the title isn't over yet.
Real Zaragoza 2 vs 1 Atletico Madrid
In a match where the ref played a decisive role, turning down two penalty appeals, Zaragoza took the three points. Simao opened the scoring with fantastic strike form outside the box but minutes later, after a corner taken by Zaragoza, Atl'tico's defender Pablo put through his own net to level the scores. In the second half Kun Aguero missed a few clear cut opportunities and with Atletico relying to much on the Argentinian they soon paid the price as Deigo Militio's penalty gave Zaragoza victory.
Real Madrid 2 vs 1 Espanyol
After been knocked out of Champions League in midweek "los Blancos" were looking to extend their lead at the top of the table. But they soon had a much harder task in front of them as Espanyol, fighting for a place in Europe next season, opened the scoring through Valdo. Espanyol dominated the first half, but couldn't prevent Madrid from grabbing an equaliser from HiguaÄ'­n. The second half was again all about Espanyol but a questionable penalty from Raul, his 200th goal for the club, gave Real Madrid the lead and ultimately the three points.
Osasuna 2 vs 1 AlmerÄ'­a
With all the goal action in the first half, Osasuna won their fourth consecutive match at home and continue to move away from the danger zone. Within the first ten minutes, Osasuna were one up with a goal from centre forward Kike Sola who dribbled past the goalkeeper and slotted home with the net unattended. AlmerÄ'­a equalised from a Corona header but the home side engineered a winner from Cruchaga, to take the victory.
Sevilla 2 vs 1 Levante
Still feeling the effects of their Champions League defeat by by FenerbahÄ'§e, Sevilla were soon behind in this game after Riga let fly form outside the box giving Palop no chance. Sevilla then seemed to wake up and with 27 minutes gone, Keita headed in a cross from Jesus Navas to level the score. Two minutes into the second half, La Liga's top scorer Luis Fabiano put away a cross for his 20th goal of the season to secure all three points for the home team against the side bottom of the league.
Mallorca 7 vs 1 Recreativo
After a hand full of draws Mallorca gained a stylish victory against a fragile Recreativo. Arango opened the scoring followed by two from Spanish international Guiza and a fourth from Borja Valero. Recreativo got one back from Ruben, but Mallorca were not to be denied their goal scoring rout. Borja Valero scored their fifth, with Arango completing his hat trick in the second period.
Murcia 0 vs 3 Getafe
Murcia's new manager Clemetnte had little to celebrate as his charges were well beaten at home. After a goalless first period, Getafe's first was scored by Pablo Hernandez with a decent strike from outside the box. The second came from AlbÄ'­n and a third followed in the final few minutes from Casquero.
Racing Santander 3 vs 0 Betis
Betis started well but were soon at a disadvantage after defender Meli was sent off. They reached the break level at nil – nil but then the floodgates opened. Duscher scored the first for Racing and minutes later a defensive mistake led to a second from Garay. Tchit' added a third as Racing kept up their charge for a place in next season's Champions League.
Athletic Bilbao 2 vs 0 Valladolid
With both teams fighting to stay in La Liga next season Athletic Bilbao dominated this game from start to finish. A cross from the right form Llorente allowed Gabilondo score the first for the home side who were then given another boost with the dismissal of Pedro Lopez for the visitors. After surving a spell of pressure from the away team, Athletic's Gabilondo scored his second, again after a cross Llorente.
Valencia 2 vs 2 Deportivo La Coruna
Valencia started the match at high speed and before the half hour mark they were two goals to the good. Arizmendi created both scoring opportunities, first setting up Mata followed by a pin point cross to David Villa who headed home from inside the box. Inexplicably Valencia then lowered their guard and Deportivo got one back with Sergio and minutes later Lafita scored the equalizer.
Barcelona 1 vs 2 Villareal
After seven year wait, Villareal won at the Camp Nou, inflicting Barca's second straight league defeat. Villareal scored first with Marcos Senna penalty before a good move from the home side and assist from Iniesta led to an equaliser from Xavi. Villareal's coach Pellegrini then brought on Tomasson and it proved to be an inspired decision as the replacement scored the winner for the visitors who took home the spoils.
La Liga Top Ten Standings
Real Madrid 27 62
Barcelona 27 54
Villareal 27 50
Atl'tico Madrid 27 44
Racing S. 27 44
Sevilla 27 42
Espanyol 27 42
AlmerÄ'­a 27 37
Valencia 27 36
Getafe 27 36