Italian football boot maker Lotto hosts its sponsored player at its headquarters in Trevignano, Italy.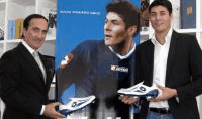 Inter Milan player and Lotto football boot wearer Julio Cruz has been contributing to two upcoming projects for Lotto – the first a special project for Euro 2008 and the second in the testing of different football boot technologies with the view to improving football boot stability. Cruz was at Lotto HQ as a professional player to give his advice and experience to the research and development team for a company which prides itself on its innovation and creativity. Lotto, of course, led the way with the world's first laceless footy boot, the revolutionary Lotto Zhero Gravity which has proved to be a great success since its launch in 2006.
Julio Cruz Football Boots
Lotto has sponsored Julio Cruz since 2003, with Cruz currently preferring the stylish blue and white Lotto Zhero Gravity football boots, although earlier in the season he was wearing the gold/white version. The Lotto football boot has been effective this season for the Argentinean player, with Cruz already netting 10 goals for Inter Milan, and earning him an impressive goal scoring record of scoring a goal every 92 minutes!
Read more Lotto Football Boot articles.