Joma are on a roll as they reveal the secondary colourway for their heritage inspired range of football boots – the Joma Total Fit – White / Royal / Red.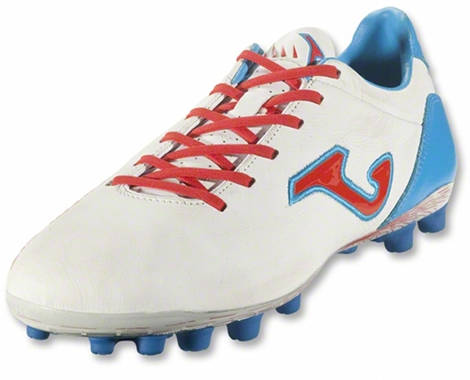 We were surprised at the positive reaction the new-look Joma Total Fit received when we revealed the launch Black/Red colourway earlier this month. Not because they're a bad boot – but some of the smaller brands don't always get the biggest reactions here on Footy-Boots.com.
Thankfully, though, our audience of boot-connoisseurs (that's you, by the way) really took a shine to the clean, modern look of the 2012 Total Fit, with many also commenting on the one-piece construction and sumptuous choice of leather.
Whilst not known for their exceptional variety, Joma are clearly wanted to their latest heritage-inspired creation to appeal to as many people as possible as they reveal the Joma Total Fit – White / Royal / Red.
The polar opposite to the Black & Red launch version, this secondary colourway has a much brighter aesthetic, and would definitely look at it's best being used on the sun-soaked pitches of Joma's native Spain.
This colourway also gives us an excuse to look at Joma's AG soleplate. Whilst the plate on the FG Total Fit – White / Royal / Red is on of it's unique features, the AG plate here is a little more like what we've seen from other brands.
But, we're not going to complain – as long as it protects the leather from abrasion and offers the sort of traction that modern artificial pitches demand, it's fine by us! Added kudos to Joma for giving AG players a top-level K-Leather boot to chose, too.
Available on the Footy-Boots.com US store now, expect UK release details shortly!
JOMA TOTAL FIT – WHITE / ROYAL / RED, 6.7 out of 10 based on 14 ratings