It's the path trodden by an almost innumerable amount young Brazilian footballers; leaving the  homeland to prove themselves in the European leagues.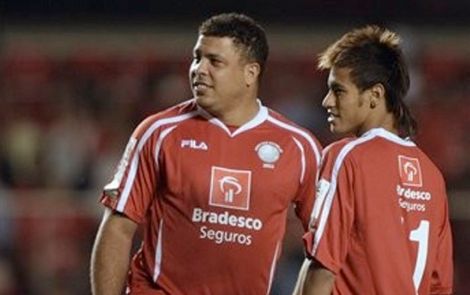 Looking Forward: Will Neymar Follow O Fenomeno's Path to Europe
Ronaldo did it, Ronaldinho did too, as did Roberto Carlos, Cafu and Rivaldo. Now, the world waits with baited breath as to whether Neymar will join these luminaries at a club in England, Spain, Italy or France.
It's a journey ingrained within the very mythos of a Brazilian's footballing life – the notion of going 'Na Gringa' is high praise when said of a young player, and a the next logical step on their journey.
Following on from O Fenomeno's declaration that Neymar could become 'The World's Best' late last year, Brazilian coach Mano Menezes is the latest to back a transatlantic move for the Santos star, saying it would bring the youngster 'respect' and is essential to his final development.
It's hard to disagree; Neymar himself expressed awe at Barcelona's playing style after December's 4-0 demolition of his side at the FIFA Club World Cup final,and rumours swirling of 'pre-contracts' and secretive 'gentlemen's agreements' would suggest the two biggest clubs in Spain want him on their books.
Mario Menezes' motivation could hardly be more transparent; the idea of a Neymar who was played either alongside or against Leo Messi and Cristiano Ronaldo for two years at the World Cup is almost enough to have other teams considering using their plane tickets to Rio for a lovely summer by the pool, instead.
Whilst the benefits are almost unquantifiable for Neymar as a player, Brazil should seriously consider the ramifications of having Neymar 'The Brand' leaving Santos.
Not once in this generation of players has a Brazilian footballer captured attention on the international stage like Neymar. Whilst there can be no doubt cast over the talent of players like Ganso and Lucas, one only has to look to Facebook, where Neymar Jr. Oficial's fan page account towers over his contemporaries, with over 3 million 'likes'.
Whilst the quantity is one thing, the breadth is quite another. At the time of writing, fans from Malaysia, Croatia, Dubai, England, Germany, Japan and – of course – Brazil are all actively communicating with Neymar. Fans who had never before heard of Santos are scouring Youtube for clips of their latest match, to see what joyful and daring tricks the Rufio-haired one is bringing in this week.
Blessed with Gazelle-like speed, a bottomless bag of tricks, excellent finishing and a pair of Nike Mercurial Vapors on his feet, the comparisons to Cristiano Ronaldo are certainly there, but his easy-going demeanor in interviews, just-the-right-side-of-goofy smile in photoshoots and tireless PR work suggest he's more in common with fellow South American Messi than Portuguese Ronaldo – making him something of a 'best of both worlds' to his associates and sponsors, and giving him a potentially massive fanbase should his rise continue.
Should Neymar find himself in a Los Blancos or Blaugrana shirt within the next couple of seasons, I have little doubt that he will take all of this multinational exposure with him. Whilst I don't doubt for a second that some outside of Brazil will still tune in to Santos games for the fine array of talent on show, the vast majority will instead simply follow that Mohican whereever it goes.
With the World Cup coming to Brazil in 2014, the focus should be on making the Brazilian 'Série A' the strongest it can possibly be; drawing attention to the players, teams, stadia and fans and stamping their authority not only a country which produces great footballers, but a country where great football is played.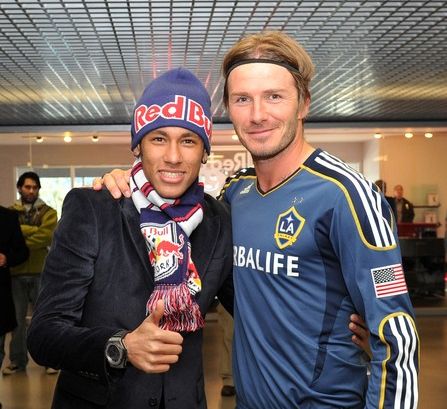 Could Neymar do for Brazil's Serie A what Beckham did for the MLS?
The commercial revenues surrounding the Number 11 are also something that Brazilian football would want to keep. Whilst I'm not about to suggest that keeping Neymar at Santos would bring in multi-million dollar TV revenues – you only have to look at Nike for signs of his importance; would the Swoosh have extended the effort to supply Santos' kit next season if one of their star assets wasn't going to be around to wear it? It's debatable.
In spite of the Ronaldo and Messi comparisons dotted around this piece, it would be perhaps most pertinent to compare the 20-year old to David Beckham (who Neymar has often declared his admiration for in the past) as he brings a microcosm of attention from across the globe to wherever he plays.
In that sense, keeping Neymar (and the eyes of his fanbase) squarely in Brazil might well stunt his development as a player, the star-power and exposure he brings could the single best move for the national game in just about every other sense – at least until after the World Cup.