When it comes to Footballers who know a thing or two about the Umbro Speciali, Michael Owen and Alan Shearer are certainly two with more experience – and goals – than just about anyone else.
Thankfully, Umbro managed to wrangle the two legendary England strikers into launching the stunning new Umbro Speciali 92. We grabbed them both for a chat…
What are your thoughts on football boots and the Umbro Speciali?
Shearer: You have to feel comfortable in them, it's hard enough going out onto the pitch as you're under enough pressure anyway, but worrying about whether you're comfortable in the boots is something you could do without.
Knowing and trusting your football boots, and being happy and comfortable in them is the most important thing. I started wearing them as 17 or 18 year old kid, I've worn them ever since and never had any problems. For me they're plain but they do their job very very well, and that has to be the most important thing.
Michael we heard you're so fond of the boots you named one of your horses after the Speciali?
Owen: As everyone knows I've got a passion for horses. I'd come back from the France 98 World Cup and we got three horses, we called one of them Etienne Lady having played in St Etienne and scored against Argentina in the stadium, and one of the others was called Speciali after the boots I was wearing in the game.
He was the only horse that never won out of the three mind! But that's not to say the boots weren't any good, and they obviously had a place in my heart after that, so we named a lovely horse that's still in our field now.
There are goals that stick out in your mind, but do you remember scoring your first international goal?
AS: I was lucky enough to do that aged twenty when I was down at Southampton, lucky enough to score on my debut against France and it's something I'll never forget. I scored a few goals after that, but scoring the first one for your country is something you'll never forget.
You're the Premier League's all-time top goalscorer, is there anyone out there who you think will catch your record?
AS: I think Wayne Rooney might have a chance if he continues in the form he's in. I'm a huge admirer of his, he's a great player and has scored more goals over the last 3 or 4 years when he's probably been in the position he wants to be in.
I think when he first went to Manchester he was asked to play left, right and he did it very well, but I think he's now grown used to the centre forward position. When you play in that position whether you're happy or not you're judged on goals and how many you score, if you don't score goals you're not judged as a very good centre forward.
You're both legends yourself, but which players past and present do you consider to be legends?
MO: Well there's plenty of top players out there, there's obviously two in Spain that everyone holds in the highest regard, two of the best players probably to play the game in Ronaldo and Messi, and we're privileged to have players like that in our lifetime.
Then you've got Rooney, Henry and going back a bit further Shearer(!). You've also got your Paul Scholes and Ryan Giggs of this world, so there's been some marvellous players over the years, and it's just a great game that we play.
AS: My hero when I was growing up with Newcastle was just when Kevin Keegan signed, so as a 10, 11 or 12 year old he was very influential over me.
He was my hero when I was a kid, and obviously I was lucky enough to go back to Newcastle when he was the manager and also with him as England manager, so to work and play with your hero is kind of strange really.
I'm a huge admirer of Rooney now, I think he's got everything , he can score spectacular goals and he can score tap-ins. I like his attitude, yes he gets carried away and steps over the mark at times, but that's him and you're never going to change that I think you have to take the rough with the smooth with him, but I think he's a fantastic player with a great attitude.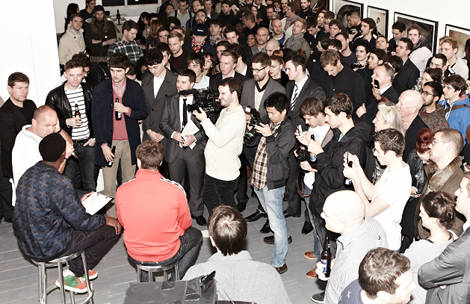 Sir Alex Ferguson just celebrated 25 successful years at Old Trafford, have you ever experienced one of his famous hair dryer moments?
MO: Well I've seen them, but I've not been on the end of one thankfully! But he's obviously a passionate man, 25 years in any job is fabulous but to do it at such a high level and under such high pressure as he finds himself at one of the biggest clubs in the world is unbelievable, and may never happen again. He's a fantastic manager and I've seen him as happy as they com and I've seen him giving a few hair dryers out, but thankfully there's been none directed in my way so far.
Heading to Euro 2012's, can England progress beyond group stages without a player like Rooney?
AS: Yes I do and I think we should be able to, we all know that whether we like it or not England will be judged on when we go to the major tournaments. We sailed through the qualifying to the World Cup in South Africa and then look what happened! We've qualified really with ease for the next European Championships in Poland and Ukraine next June, but the test will be when we get there.
As always with an England team expectations are going to be huge and I'm as guilty of that as anyone, we've both played for England teams that have gone to tournaments and been expected to do better and there's various reasons why we haven't. But yes we can look at the Spain game and say we did well and the signs were encouraging, with a lot of the young guys coming through and playing very well. But the test will be next June, if we go there we do well and we win it then Fabio's reign will have been a huge success, if we don't then he's been a huge disappointment.
In Rooney's absence there's a space to fill for the first three games, are the likes of Danny Welbeck, Daniel Sturridge and Andy Carroll the players to do that?
MO: Of course there's players who are capable of winning games and of scoring goals at international level, and there's players that have proved that. You look at someone like Peter Crouch who has scored a lot of goals for England, Jermain Defoe has scored goals, Darren Bent has scored goals.
So you'd like to think that we can qualify through the group stage without our talisman, and I'm confident we can qualify, then hopefully we'll have Wayne back for the later stages, and he'll certainly be revved up and ready to go if we do qualify.
You both played for Newcastle who are doing unexpectedly well at the moment, what are the reasons for that?
AS: I think confidence, if you get off to a good start to the season you get two or three good results in the beginning, then Michael will tell you confidence in football is a such big thing. They've surprised me and probably surprised a lot of people, there's no way I thought at this moment in time they'd be sat in third position in the league.
But they've got three very tough games coming in Manchester City away, Manchester United away and then Chelsea at home, but even if they were to take no points from those three games it's still been a very good start. The more I see of the league, I think they can finish maybe sixth or seventh position and I don't think there's anything for them to fear.