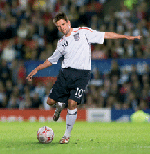 England striker Michael Owen is a transfer target for Hull City.
It's reported that the Premier League side are willing to offer Owen a one year deal with an option of a further 12 month stay. The deal will also be highly incentivised with Owen reaping more rewards for games played and goals scored.
With his contract at Newcastle due to expire at the end of the month, it was only last week that Owen's representatives sent out a glossy sales brochure outlining his credentials. At the time Everton were seen as the favourites to land his signature, though what the former Liverpool legend would have thought about moving to his one-time arch rivals isn't known.
Speaking to the News of the World, Hull chairman Paul Duffen confirmed their interest stating that the club would be looking to sign Owen "on the right terms." He went on to tell the paper:
He's a fantastic footballer. He's had a few injury problems, but we would have to be interested in him.

If the right deal can be done then we would definitely be keen to sign him. We are an ambitious football club and we want to show that.

It would be an enormous move for us, but the deal can be done if it is on the right terms.