The new season is a fresh start for many players. A good pre-season and some time in the gym can work wonders on your confidence, but when the seasons starts, the mornings get colder and the matches start getting tougher, how do you stay positive?
We caught up with David Alred at the launch of the Gillette Great Starts campaign to find out just that. As one of the leading performance coaches in the game -with a client list including world number ones in just about every major sport – there are few more qualified to getting your head in the right place this year.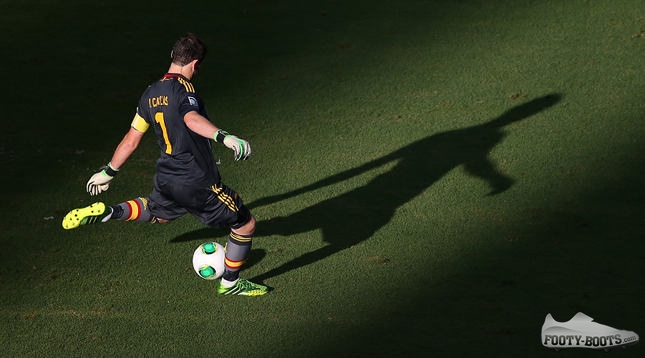 Iker Casillas has won it all – so how does he stay mentally prepared for a new season?
It's the start of the new season, for your average player, what's the right mindset to be in to get off on the right foot? What can you do to reinforce that mindset?
The most effective mindset is to try to continually improve all the components of your game: attack, defence, heading shooting with both feet. Win, lose or draw you as an individual can still get better. This also gives you a much more specific focus for your practice sessions
Players go through a full gambit of emotions throughout a season – what advice would you give to a player who is suffering from:
 
– A lack of confidence?
Immerse yourself in trying to improve at the margins of your own game rather than comparing yourself with others. Adopt a much more explicit focus on getting a good upright posture. It helps with both your mindset and your body mechanics.
– Over-confidence?
Are you the best player in the world? If not adopt a humility and set about seeing how specifically you can get better
– Inconsistency?
This so often comes down to practicing your skills €" rather than just playing hours of practice small sided games €" you should always have 2 or 3 things you are specifically working on that will improve your performance
Fernando Torres needs to live and breathe in the margins of his game to get back to his best.
You've had the opportunity to work with many top-level athletes – is there any consistent traits they share, or a piece of coaching that rings true across all disciplines?
Across all of the disciplines that I've worked in or observed, the best players take responsibility for their own improvement and they don't accept that there are limits to their improvement.
Aspiring coaches will often find themselves working with unfamiliar groups of players – what can you do as a coach to stamp your authority on a group or win them over?
I worry about the term authority and I would want to replace it with respect. You have to ensure that everything you do is obviously aimed at improving the players as individuals and the team as a whole €" this is a massive subject and it is to do with the coach's approach, demeanour, attitude, respect for the players and commitment
As we're Footy-Boots.com we have to ask, what's your take on modern football boots? Can the right pair make a big difference?
Your football boots are the tools of your trade and the right boots that are effective between your foot and the ground and your foot and the ball are vital.
Dave Alred is supporting Gillette's Great Start programme that celebrates the important role of coaches and encourages people to get into coaching by offering grants. To apply for a coaching grant visit www.facebook.co.uk/GilletteUK