adidas have today lifted back the curtain on the new Germany Away Shirt that Joachim Low's men will wear as they make a bid for Euro 2012 glory this summer.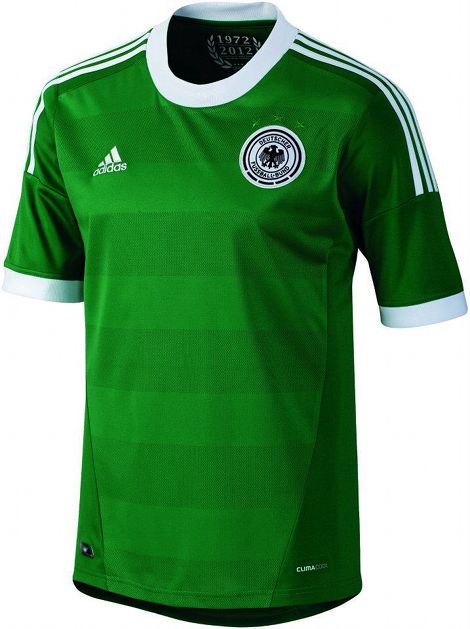 With the tagline of 'Passion & Tradition', the new Euro 2012 Germany Away Shirt is a return to a Green away kit for Die Mannschaft in 10 years.
Historically, the away kit for Germany has most often been Green, however, since 2002 darker colours like grey, black and red have been used – the latter used due to former manager Jurgen Klinsmann's desire to have the team look more intimidating.
The return to the 'classic' green for the 2012 Germany Away Shirt comes just as a new generation of German footballers are coming through; with the likes of Mesut Ozil, Tomas Muller and Mario Goetze all leading the charge for a new-look, youthful national side.
The kit itself pairs a green shirt and and athletic white trim with a subtle hooped effect and clean, round neckline – furthering adidas' desire to create a modern kit that looks back to tradition for inspiration.
Fitting in with that theme, the outside neck of the new shirt features a tagline that reads "1972 – the beginning of a success story, 2012 – a new chapter waiting to be written".
As you'd expect from adidas, the new Germany shirt boasts all the Techfit, Climacool and Formotion bells-and-whistles we've come to know and love.
Germany play France in a friendly on February 29th, and will provide the perfect first occasion to debut their new away kit – with the shirt itself on sale from February 24th.
Until it goes on sale, why not tell us what you think of it with a comment?
Or hit up the Shirt-o-meter to get your opinion heard!
Thanks to DDChile for posting this up on the wall of our Facebook page!