On the eve of England's first Euro 2012 warm-up match, Umbro have launched an all-new campaign for a summer packed with top football action.
Dubbed 'Faces of England', the first 'Face'  is the irrepressible Paul Gascoigne – or Gazza to his mates. And just about everyone else, actually.
Gazza, capped 57 times, last appeared in an England shirt against Belgium in 1998 and now he wears the Three Lions once more as England gears up for Europe's biggest football tournament as part of Umbro's Summer 2012 campaign.
One of his most memorable performances for England was scoring a spectacular volley in a 2-0 win against Scotland at Wembley in Euro 96.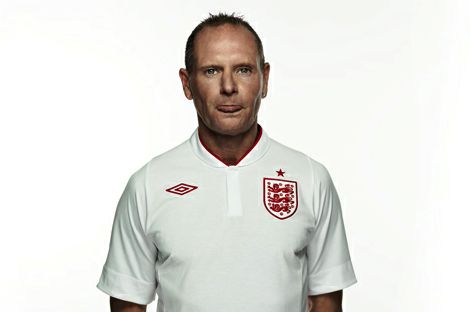 Today Gazza, who celebrates his 45th birthday on Sunday [27th May], unveiled a giant 13m x 10m image of himself which plays up to the famous 'tongue out' pose from his playing days.
The image of Gazza is the first in a series of 'Faces of England' from official England kit supplier Umbro which celebrates icons of England. Over the coming months, other famous figures that represent English culture will appear on the billboard on Old Street, London.
We can't wait to see what Umbro's new ad looks like when it gets a full debut ahead of England's friendly in Norway on Saturday, but for now we think this video is one of the best we've seen here on Footy-Boots.com, so we're going to watch it again a couple of times!