"Rule 40 of the Olympic Charter limits athletes competing in the Olympic Games from appearing in advertising during and shortly before the Olympic Games. This helps prevent ambush marketing which might otherwise utilise athletes to create an association with the Games."
Olympic Athletes show their disdain for Rule 40 on Twitter
Above is the executive summary of what both Olympic athletes and organisers alike know only as Rule 40. And thanks to a number of athletes campaigning to have it changed – now the public know all about it, too.
Designed to protect the investment of advertisers (or 'partners'), Rule 40 prevents athletes from appearing in traditional advertising (paid-for space in press adverts, billboards, television, radio adverts and online advertising) as well as doing in-store events and appearing on drinks cans, food containers etc.
The most interesting caveat, however, is that for London 2012 social media has also fallen under the Rule 40 umbrella.
So, despite Nike sponsoring the US Olympic team and individual athletes like Lebron James and Mo Farah, these elite athletes can't tweet anything that can be construed as advertising; be that Usain Bolt posting a picture of his Puma track spikes or any of the Japanese athletes tweeting how comfortable their Mizuno gear is.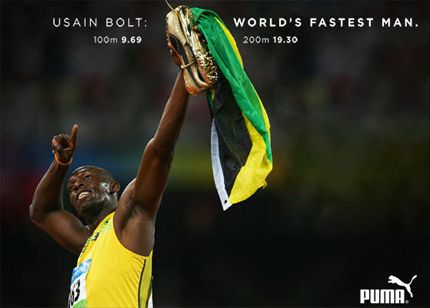 Usain Bolt showing off his textbook 'Ambush Marketing' for Puma
The penalty for breaking Rule 40 is nothing less than "sanctions including, ultimately, disqualification from the Games and/or withdrawal of the Participant's accreditation".
So with high profile brands sponsoring the World Cup, European Championships, Champions League and Europa League – as well as domestic competitions like La Liga, the Premier League and FA Cup, could a Rule 40 equivalent ever work in football?
On the surface, it could be a great move to discourage lucrative sponsorship contracts for individual athletes. Would Cristiano Ronaldo be worth as much to Nike if he could post photos and videos of his football boots to his 12 million Twitter followers during the World Cup or Copa del Rey?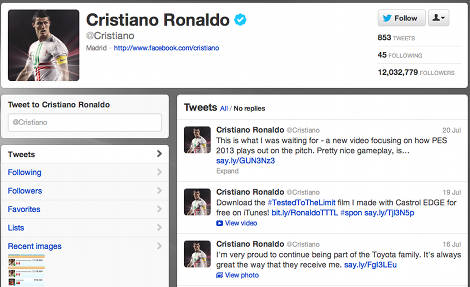 Cristiano Ronaldo's last 3 tweets have been pushing products from Toyota, Castrol and Konami – Two of those would have been illegal during Euro 2012 if football had a 'Rule 40' 
Could Leo Messi have negotiated his biggest-ever deal with adidas if he wasn't allowed to appear in adverts during the Nike-sponsored La Liga season, and share adidas' viral videos with his 37.5m Facebook fans?
Taking an athlete's individual communication channels out of a sponsorship or endorsement deal would vastly impact it's worth; once upon a time sponsoring an athlete would also mean publicising high-profile events, or creating costly television commercials.
Now you only have to look at the Facebook pages of Andres Iniesta or Cristiano Ronaldo for examples of how that has changed, both of whom earn their sponsorship crust with a simple photo taken from a mobile phone and a nice namedrop of the product.
 https://www.youtube.com/watch?v=gHFhGDWP9Fs
Nike's summer ad campaign sidesteps Rule 40 by using no Olympic athletes and other locations baring the name London
But conversely, there is far too much crossover between the commercial deals of players, clubs and competitions for a Rule 40 to exist in football – and to limit advertising would stunt the exposure that makes football global.
Currently, there are agreements in place – you'll never see Nike mention the World Cup or Champions League in their ads or on their Facebook, for example – but knowing that certain players have obligations beyond their 'personal' sponsor has allowed a fairly relaxed truce to surround football, as more brands can benefit from a player's image being associated in some small way with their organisation.
For example, in 2012 alone, England Captain Steven Gerrard will:
Lace up his adidas Predator football boots
Don a Warrior Sports kit for Liverpool
To play in the Nike-supplied Barclays Premier League
And the adidas-sponsored Europa League
As well as the Umbro-supplied FA Cup
Fresh from adidas-sponsored Euro 2012
Where he wore an England Kit, Tailored by Umbro
If any one of these brands were  to 'pull rank' with a Rule 40 agreement over the others, it could potentially be a incredibly damaging to the rest of the brands within this 'chain', as they squabble over who can wear what and when – there's simply too much crossover.
It would also practically kill off any football brand who weren't rich enough to sponsor a league or major competition. If Mizuno couldn't rely on the star power of Hulk, Jonas and Honda in the European season or Diadora having Antonio Cassano present at Euro 2012, they could never reach the level they are at now.
Would Nike have minded if Messi did this in La Liga? Probably not.
It would also potentially burst the bubble of the football mega-star, which would potentially be awful for ticket sales, TV rights and all the high-money deals that make world football tick.
There's a reason a huge crowd always turn out to see Beckham at away games in the MLS, there's a reason Hamburg are contesting paying a €1.2m match-fee to Barcelona when Messi pulled out of a friendly last week.
People pay big money to watch football both at home and at the stadium to see footballing heros that are larger-than-life. Would big names still be as big if they weren't allowed to appear in adverts like adidas' 'Impossible Pitch', or Nike's 'Write the Future'? Or if they weren't allowed to tweet or appear at PR events during a World Cup?
Potentially not.