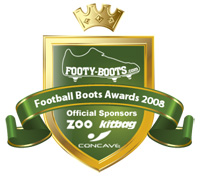 If you thought the political situation in the Middle East was tricky to navigate, then you are in for a real rough ride when it comes to the arguments and opinions that surround football boots.
Football Boots, through their creation and performance, or sometimes lack of it, have generated a massive following.
Brands are spending big bucks on marketing campaigns, ads, PR and virals and with good reason. The web is full of blogs and forums, populated by experts (many of them self appointed it must be said) who, it seems, immediately pass judgement on product whether or not they've seen it, tried it or tested it.
Football Boots are big. And it only seems right that you, the consumer, have the chance to have a say on what is out there. So, following on from the enormous success of our awards of last year, where you voted in your tens of thousands, Footy Boots is delighted to announce details of the Footy-Boots.com Football Boot Awards 2008.
First off, don't panic. Voting doesn't start for 2 weeks so you've got plenty of time to collect your thoughts, weigh up the pros and cons before you have to come to a decision. Or indeed decisions, as there are 6 categories in which you can vote.
Football Boot Brand of the Year, Football Boot of the Year, Best Looking Football Boot of the Year, Most Innovative Football Boot of the Year, Most Comfortable Football Boot of the Year and Best Premier League Home Shirt of the Year.
Don't forget, voting starts on Monday 21st July and closes on Saturday 16th August, subcribe to our RSS feed, or email subscription to be reminded when the voting opens. RSS and email subscription at the top right of this page.