Has there ever been a better year for football fans than 2012? We had the grandstand finish to the Premier League season, Chelsea's underdog Champions League triumph, Euro 2012, the London Olympics – it's been special to say the least!
But will 2012 be a year that's remembered as a vintage one for football boots, too? We look back at some of the big topics and trends that got you talking, over the last 12 months.
The Death of Leather…
Since around summer, we've run three articles prefixed with 'Is it Full-Time for Leather Football Boots?' – one for each of the 'big three' in the football boots world; Puma, adidas and Nike – committing to all-but-eliminating their use of Kangaroo leather in football boot production.
Viewed by many fans and players as the 'Rolls-Royce' material for football boots, many members of the boot community seem to be' reacting almost' angrily to the news. With the 'big three' moving away from K-Leather, will this allow smaller brands like Mizuno, Pele Sports, Warrior, Asics and Pantafola D'oro to entice fans by' committing' to the use of natural leather in 2013?
… and The Rise of Synthetics
Thankfully, adidas, Nike and Puma are as committed to performance as they are to making their products more environmentally-friendly – and almost all of the them have released a new type of synthetic leather.
For Nike, the Kangalite 2.0 debuted on the CTR360 III has proven even better than it's critically-lauded predecessor and adidas' HyridTouch has been praised as one of the market's best synthetic leathers after just 6 months on the market on the Predator LZ. With materials like this at their disposal now – will we miss K-Leather at all by the end of 2013?
Boot Swaps… Or Lack Thereof!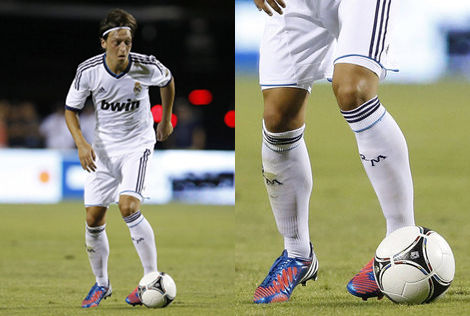 One thing that keeps people glued to boot-spotting articles and forums posts across the web is the possibility of a superstar making a dramatic switch to a rival brand. 2011 saw the likes of Sergio Aguero, Thierry Henry and Cesc Fabregas offer up dramatic swaps that captured the attention of a global audience – but this season was somewhat more subdued.
Tom Cleverly was arguably the biggest Premier League swap of 2012, leaving the Predator LZ for the Nike CTR360 III just months after appearing at the adidas launch event for the new Predator. Otherwise all the attention has been on the tug-of-war between Nike and adidas for Real Madrid's Mesut Ozil, which went from an exciting one-off to a 4-month drama!
New Brands Gaining Ground
We've always been advocates of new brands here on Footy-Boots.com, and this year has seen us cover a handful of brands for the first time.
The biggest has arguably been Warrior, who expanded on their capture of Liverpool FC with a new range of football boots that – surprise – actually tick the boxes of what makes a great football boot.
Additionally, we've also welcomed Aspero to the rest of Europe and the legendary Munich Futsal shoes to North America. Outside of brand new brands, we've also seen Pele Sports grow in stature as they continue to release landmark boots like Titan leather version of the Trinity, and Under Armour blitz the market with three new models.
What Will 2013 Bring?
It's always tough to predict the workings of an industry where surprises are always round there corner – so we want you to comment on what you think will happen in 2013, and we'll feature the best ones in an article ' – here's some of ours to get you started!
– Nike will launch a whole new silo that will massively divide opinion.
– Puma will launch a new PowerCat, which will use a new synthetic leather like KangaLite or HybridTouch.
– Umbro will continue to make boots as owners Iconix move into the football market.
– Warrior will make another big name signing – probably a Liverpool player.
– adidas will put a renewed focus on Leo Messi's signature brand, whilst improving the micoach system ahead of the launch of Nike Football+