Cricket is the sport where the art of sledging is almost as important as the game itself, but what do you think of these football insults?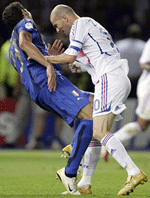 In anticipation of the start of the new season on 11 August, here at Footy-Boots HQ, we have been thinking back to one of the more humorous aspects of football that really helps to spice up the beautiful game… the comical insult.
Here's the top 15 football related insults, as featured on The Times Newspaper's website, where they have a Top 50 sports insults.
15 "Football is all right as a game for rough girls but is hardly suitable for delicate boys."
Oscar Wilde makes a fair comment – years before anyone started diving to win free kicks.
14 "Hijo de puta."
Early in his career with Real Madrid, David Beckham gets into trouble for calling a linesman a son of a whore in Spanish and receives a redcard. Beckham later said (in English): "I didn't realise what I had said was that bad. I had heard a few of my team-mates say the same before me."
13 "I'm not as nice as all that. In fact, I swore only last week."
Gary Lineker is not above self-mockery.
12 "Alan Shearer, he's boring isn't he? We call him Mary Poppins."
Freddy Shepherd, the chairman of Newcastle United, doesn't sound too convinced of the worth of a man he had paid £15 million to sign.
11 "I don't think heading a ball has got anything to do with it, footballers are stupid enough anyway."
A Premier League spokesman in 1995 comments on a report that brain cells are damaged by heading balls.
10 "Everyone thinks they have the prettiest wife at home."
Arsene Wenger's reply to Sir Alex Ferguson in 2002 when the United manager claims his side had been the best team in the Premiership.
9 "He cannot kick with his left foot, he cannot head a ball, he cannot tackle and he doesn't score many goals. Apart from that he's all right."
George Best sums up the many talents of David Beckham.
8 "Stone me! We've had cocaine, bribery and Arsenal scoring two goals at home. But just when you thought there were no surprises left in football, Vinnie Jones turns out to be an international player."
Jimmy Greaves is shocked when the Wimbledon hard man is selected for his first cap, of eight, for Wales.
7 "Somebody compared him to Billy McNeil, but I don't remember Billy being crap."
Tommy Docherty, the legendary football coach, on Rangers' Italian flop Lorenzo Amoruso in 2000.
6 "If David Seaman's dad had worn a condom, we'd still be in the World Cup."
A harsh but possibly fair assessment of England's defeat to Brazil in the 2002 World Cup by the comedian Nick Hancock.
5 "Only if there's an outbreak of bubonic plague."
Giovanni Trapattoni gives a blunt answer when asked if he will select Paolo Di Canio for his Italy World Cup squad in 2004.
4 "The local girls are far uglier than the ones in Belgrade. Our women are far prettier and they don't drink as much beer."
Georgi Hristov, of Macedonia, spoils his relationship with the locals when describing women at his new football club in Barnsley.
3 "He covers every blade of grass, but that's only because his first touch is crap."
Dave Jones, the football manager, is honest about Carlton Palmer's skills.
2 "You were a crap player, you are a crap manager. The only reason I have any dealings with you is that somehow you are manager of my country and you're not even Irish, you English ****. You can stick it up your bollocks."
What Roy Keane allegedly said to Mick McCarthy, the Ireland manager, that got him sent home from the 2002 World Cup. Keane is now a responsible Premier League manager.
1 Whatever Marco Materazzi said about Zinedine Zidane's sister or his mother or terrorism. No one is quite sure what the Italy defender actually said during the 2006 World Cup final, but Materazzi's insult riled Zidane so much that he headbutted him in the chest and was sent off.
We welcome any footballing insults that you think could add to this list. Just remember to watch your language!