The Women's World Cup kicks off in Germany this weekend, and to mark to occasion, we're looking at some of the awesome colourways that the biggest brands have released for their most popular football boots to dominate pitches across the host nation, Germany!

adidas adiPower Predator – White/Black/Pink & Black/Silver/Cyan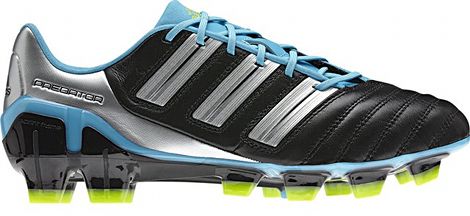 The adidas adiPower Predator has had a massively positive reception since it's extravagant launch and reveal at the end of last season, and now it's looking to dominate the Women's World Cup with two awesome exclusive colourways.
Whilst they're designed to appeal to the female demographic, we reckon that there's a fair few male footballers who wouldn't mind a pair of football boots like this for themselves!
The Black/Metallic Silver/Cyan would definitely match a number of top-flight kits, and we think it might not be unexpected to see a male professional or two adopt a pair for themselves!
adidas F50 adiZero – Intense Pink/Slime/Black
If you thought men's football boots colourways had gotten a bit excessive over the last few seasons – check these out!
The adidas F50 adiZero has had some radical colourways since it's redesign in January, but we think these challenge even Leo Messi's new colourway for the title of 'brightest adiZero Yet'.
The Intense Pink & Slime are sure to stand out on any football pitch, and will be easy to spot in the Stadiums around Germany in the coming weeks!
adidas adiPure IV – White/Silver/Cyan/Slime

Now here's a colourway that really shouldn't be restricted to just one gender!
The adiPure IV looks exceptional with a clean white and silver upper, but the sole and detailing on these football boots contrast two bold colours to great effect – reminding us somewhat of the adiPower's Sharp Blue/Metallic launch colourway.
Nike CTR360 II -White/Black/Chlorine Blue
Nike's flagship football boots of the tournament, we've already had a sneak preview of these CTR360 II's in the promotional images for the new USWNT kits.
Going into the tournament as one of the favourites, expect to see this version of Nike's most lauded football boots on the feet of many of the US Women's team.
Interestingly, Nike has also provided all it's players on the US team with a pair of Elite SG Black/White/Challenge Red CTR360 II's, embroidered with the US flag – perhaps to wear with the away kit.
Puma v1.11i – Vaporous Gray/Fluo Green/Midnight Navy
Puma have a massive presence in the world of Women's soccer, thanks to their strong ties as technical supplier to the American Women's Soccer League.
Which is why, upon the launch of the new v1.11, they were keen to advertise the women's Puma v1.11 as equal to it's male counterpart.
Expect to see plenty of this Puma v1.11, as it'll be on the feet of Brazil's Marta – who many consider to be the best female footballer in the World today.
Puma King Finale i – White/Ebony/Puma Royal


Arguably another colourway that should be available on the Men's and Women's model is this great-looking Puma King Finale i!
Interestingly, the Women's Puma King Finale has a couple of design tweaks over it's men's counterpart.
The most noticeable is the shape of the tongue – which is similar to that of the King XL than the Men's Finale. The second is it's made from full-grain calf leather, rather than K-leather.
Puma PowerCat 2.10 – Blue Atoll/White/Festival Fuchsia
We've made the case that some of the colourways in this feature should really be available to both sexes football boots. This is not one such colourway.
Sorry Puma, but we're not sure this is fit for anyone with a modicum of taste to wear – regardless of gender!