World Cup Football Boots: Serbia
Fifa Ranking: 15
Group: D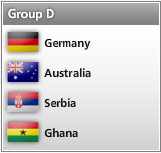 Path Ahead of the World Cup
Serbia qualified top of their group (ahead of favourites France) to qualify for the 2010 FIFA World Cup automatically. They were confident and free-playing throughout the qualifying stage, winning their final match 5-0 – Serbia could be an entertaining team to watch if they can keep that sort of form up.
Key Players
Nemanja Vidic and Nikola Zigic
Vidic has been one of Manchester United's best signings in recent seasons. The tough-tackling centre-half is a titanic presence in the centre of the park. If Vidic can keep a cool head on the day, he can stop any team in the tournament.
Birmingham City's latest signing Nikola Zigic is a towering figure at the head of the Serbian attack. Zigic is the tallest man at the tournament at 6 feet 7 inches. far from just a one-trick pony Zigic's record is 16 goals in 46 games, proving him a capable finisher.
The Gaffer
Radomir Antić has an excellent reputation as manager of his Native country. Antić's policy of giving young, in-form players chances to shine in big international matches, as well as bringing in players previously ignored by other managers have made him a fan favourite
Prediction: Group Stages