Every so often, you feel like like receiving a pair of football boots is a real privilege, as was the case with the Nike Tiempo Legend IV Elite.
Premium materials, gorgeous colourway – and then there's that price tag!
The point I'm getting at is, that the' Nike Tiempo Legend IV Elite has some seriously lofty expectations behind them, before they're even out of the box.
So – how do they stack up to that hubris? Read on to find out!
Comfort & Fit
Nike have put their heart and soul into the material selection for the Nike Tiempo Legend IV Elite, and the exceptional choice of leather is reflected in the fit.
The forefoot is so soft, you can almost leave your fingerprint in it. The moment you take them out of the box, you know there's not going to be any toe-rub or cramping going on at the front of these football boots.
One of the nicest things about the' Nike Tiempo Legend IV Elite is the shape and flexibility of the toes; it's accommodating to just about any foot size, but that's also one of it's misgivings.
Supported by FlyWire that pulls the football boot snug when the laces are tightened, the midfoot is a perfect balance of flexibility and adjust-ability. The soft leather is reigned in and given form and structure by the FlyWire to give the' Nike Tiempo Legend IV Elite one of the best fits of any football boot in this area.
In contrast to the toe, the leather is so soft and supple, it's almost loose, bending and creasing almost with the breeze.
Whilst there will never be any breaking-in to do and the touch on the ball is exceptional (more on that later) the toes will never have that one-to-one fit that some other football boots do, meaning it can sometimes feel loose when running.
Feel & Touch
There is absolutely no way to describe the feel for the ball in the' Nike Tiempo Legend IV Elite without sounding like some hyperbolic lunatic that's been brainwashed by Nike.
So try and sum it up; when you've got a pair of Nike Tiempo Legend IV Elite's on your feet and ball at them, it feels like any trick, flick or lay-off is possible. They're that good.
Looks
Obviously there's some contention surrounding the introduction of such a large amount of bright colour to the Nike Tiempo Legend IV Elite, given their history as a classically coloured pair of football boots.
Personally, I think that Black/White/Max Orange is a really stand-out colourway that epitomises the 'Old-Meets-New' ethos behind the Nike Tiempo Legend IV Elite. Add to that, they're really visible on the pitch – after one tackle in training, one of my team-mates remarked afterwards, he thought we was clean through until he saw an orange blur come in from the side!
My only concern would be in how many other colour combinations Nike can capture this ideology with and still have a good looking pair of football boots in their hands.
Maintenance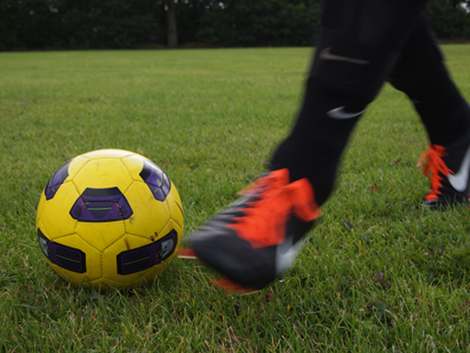 As a football boot that lives and dies by it's super-soft leather upper, it should be no surprise that maintenance is paramount to any pair of Nike Tiempo Legend IV Elite's.
Expect to spend a short amount of time cleaning them off properly and stuffing them with newspaper after every game if you want to keep them in tip-top condition.
Leaving them to dry out muddy after you've played in them simply won't do, I'm afraid!
That said, if you spend £275 on a pair of football boots, I expect you'll want to take good care of them!
Aside from that, after you've got the Orange laces dirty, don't expect them to get clean ever again – and be mindful of the stitching across the big toes. Similar to the adiPower, it can start to look frayed and worn after only a couple of games if you play on really hard/artificial turf.
Performance
Performance is a funny one in the Nike Tiempo Legend IV Elite, as you have to judge a football boot on what it sets out to do.
In that sense, the performance on the new Tiempo is outstanding. The first touch is unmatched in the world of out-the-box football boots; (I'm not going to try and argue with all the people who say their 2-season old Copa's or Morelias offer the best first touch!) whether you're bringing down a goal kick from up high, or scooping up the underside of the ball for a deft flick, your touch won't let you down in these.
On the other hand, that soft, loose-fitting toe does take some getting used to when it comes to other aspects of your game. Passing, crossing and general instep duties are all as good as you'd expect them to be, but if you hit the ball right down the middle of your foot, so that your toe is the last thing that's in contact with the ball it can feel a bit ineffectual.
The way I picture my foot hitting the ball, is that the power is generated by the 'throat' or laces of the boot, with the toe giving it a final sense of direction and dip. Given how soft the toe is, you really have to work on getting that same 'zip' back, if your technique is similar to mine.
Other than that, the' Nike Tiempo Legend IV Elite has one of the better Carbon Fibre chassis under it, with it loosening up and bending with your foot after only a couple of wears.
Value
The' Nike Tiempo Legend IV Elite has to be one of the hardest ever football boots to 'value' in history.
You're getting nearly the same level of technology and innovation as something like the Superfly III, along with really premium materials like Carbon Fibre and leather that you have to feel to believe.
That said, £275 is a price tag that is certainly 'premium', and I don't think is a fair price for any pair of football boots.
If you're a player that absolutely demands the best, and you're doing to look after them and make sure they last a long time, then I'd say they just (and I mean just) meet Nike's valuation.