The top 10 scorers in the Premier League and their football boots of choice.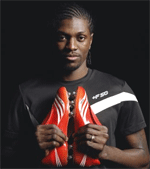 Twelve games to go and and the Premier League is really hotting up. The weekend games went well for Arsenal, but 5 points is not enough at this stage to make them comfortable favourites for the crown.
Meanwhile, the individual strikers crown is also up for grabs. Adebayor and Ronaldo are sitting pretty at the top right now with 19 goals each. A lead of 6 goals to their closest rival, Manchester City's new boy Benjani.
Here is the league and the football boots doing the business!
19 goals
Adebayor – Arsenal Adidas F50.7 Tunit football boots
Ronaldo – Man Utd Nike Mercurial Vapor IV
13 goals
Benjani – Man City Adidas Predator Absolute
12 goals
Keane – Tottenham Nike Total 90 Laser
Torres – Liverpool Nike Total 90 Laser
11 goals
Anelka – Chelsea Puma V1.08
Santa Cruz – Blackburn Puma V konstrukt II
Tevez – Man Utd Nike Tiempo Air Legend II
10 goals
Berbatov – Tottenham Adidas Predator Absolute
9 goals
Carew – Aston Villa Puma V1.06 and V1.08
Yakubu – Everton Nike Total 90 Laser