Footy Boots, is proud to announce the launch of the Footy-Boots.com Football Boot Awards 2007 in association with Zoo.
The international football boot awards will recognise excellence in the football boot industry, giving plaudits to the manufacturers of the football boots of the year.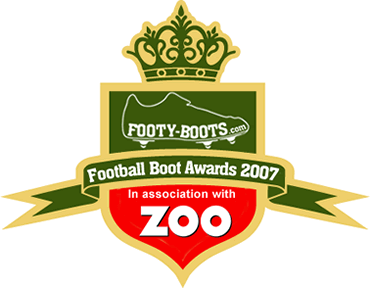 Football boot brands have nominated their leading football boots from the 2006/7 season, to be voted on by you the Footy-Boots.com audience.
Football Boot of the Year
Football Boot Brand of the Year
Best Looking Football Boot
Most Comfortable Football Boot
Most Innovative Football Boot
Voting will run on Footy-Boots.com for a two week period between Tuesday 2nd October and Tuesday 16th October, 2007.
Footy-Boots.com will announce the 2007 Football Boot Award winners on Tuesday 30th October.
By voting in the first ever global Football Boot Awards, you will be put into a draw to win a pair of football boots for the rest of your playing career!*
To vote for your top football boots and have the chance to win a supply of your favourite football boot company's boots for the rest of your playing career*, be sure to log on to the Footy-Boots awards section between the 2nd and 16th October.
*Based on 1 pair of football boots per season for a maximum of five seasons