Zidane on a scooter driving to Portugal, Roberto Carlos hammering a football over a plane, Footballitis, Nike 3v3 cage games; over the past ten years we have been blessed to witness some extraordinary football boot adverts combining creativity, innovation and humour alongside our footballing icons.
For those older readers cast your mind further back to the oh so special Nike Nutmeg advert that was cast on our screen in the mid 90's (for those who have yet to see it, YouTube now!) and the Parklife Fowler-and-Cantona-among-others advert on Hackney Marshes and you see why advertising football boots was and still is such an important game.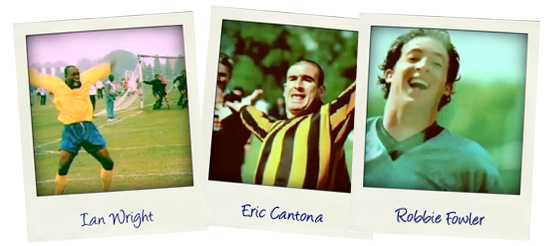 Stars of the Nike Parklife Advert shot at Hackney Marshes:
Ian Wright, Eric Cantona and Robbie Fowler
Before the advent of footy boot commercials as we know them, the market was an unspectacular if productive tool, with black boots dominating shelves and players yet to reap the massive benefits of personal sponsorship as we now know it.
All changed in the mid 90's however as iconic superstars like Cantona, Fowler and Martin Keown took centre stage. Yes Martin Keown. For it was Chimphead himself who was brave enough to don the all red Puma Kings without a care in world and closed (hairy) ears to the outsiders who said coloured football boots will never take off in a man's world. Over 10 years later in the age of straighteners and skinny jeans and…well, you know the story!

The modern day Puma King XL
However in commercial terms what comes next for the boot brands as we fast approach South Africa 2010? Inspite of the technological advancement of boots in the last two years and the vast range colourways now on sale, the commercial advertising seems to have taken a back seat, with all but a few videos floating the net.
Will we see a spectacular effort to drive sales in the run up to the next world cup as Nike and Adidas battle for supremacy and Puma and Umbro scrap for what's left? Will we see Cristiano Ronaldo swimming in just his sexy silver hot pants and his MV5's to Cape Town? Or maybe we'll see Niklas Bendtner flying there in his custom pink plane? One can only hope not.
Nike Merurial Vapor V

My opinion is this; football has never had the privilege of accommodating so many superstars in one generation, and the fact remains that these superstars help sell stuff. In today's economic climate as the world battles against recession, peoples purse strings are tighter than ever and a dispensable product such as a top end football boot can be replaced with a cheaper version. Thus for the major brands to ensure sales remain as high as today advertising campaigns will have to come out in force. The ability to utilise such prominent superstars such as Ronaldo, Kaka and Messi to display their talents will surely entice the major brands to creating the next generation of commercials for our viewing pleasure.
It could be argued the lack of commercials displayed a sensible approach from the major brands who decided the technological advancement of the product must come first. However technology must be placed on hold as simplicity takes shape in society, financially and socially, and the innovative adverts that revolutionised the football boot market come back to add life to a market that could well see dark days ahead. Only sales will ensure creativity remains and finance is available to advance our boots yet further, and sales can only come from advertising.
Here's to tomorrow's adverts and Martin Keown!
By Omar Saleem