The Football Association says it will "take a close look" at two incidents involving Manchester City's Emmanuel Adebayor from Saturday's game against Arsenal.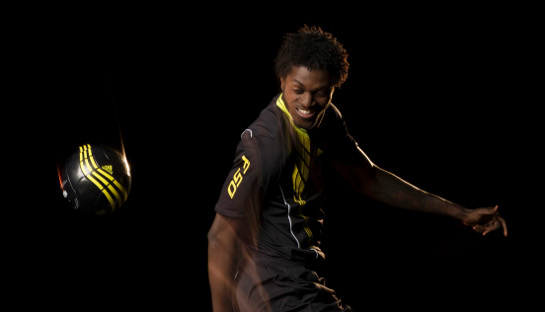 Adebayor, who joined City from the Gunners in a £25 million move in the summer, was involved in two incidents that could land him in hot water – first he clashed with former team mate Robin van Persie and then he ran the length of the pitch after scoring and celebrated in front of the visiting Arsenal fans.
The FA's chief executive Ian Watmore was quoted a saying he was "unimpressed" with the Togo international's actions and that his organization would examine the two incidents on Monday.
Speaking to BBC Radio 5 Live, Watmore went on to say:
Our governance team will take a good look at both of the incidents that have been highlighted and will come to the media with the answers early next week.

The punishments are the decision of the individual commission, if we get that far.
Adebayor publicly apologied regarding his challenge which left the Dutchman needing treatment for a cut to his face. However, van Persie has accused Adebayor of deliberately trying to injure him saying:
He set out to hurt me. I do feel lucky that I have not received a greater injury.

I knew he was aiming for a collision because he changed the angle of his body to allow contact to be made.

He moved backwards when his natural momentum would have taken him forward. I find that deeply disrespectful.
The contact was only centimetres from my eye. I have not received an apology from him, there were no words exchanged afterwards. He had his own agenda today and that is bad for football. It's bad for the game we all love.

We are both professional footballers and I know that the game is physical. I, too, have made hard and sometimes mis-timed challenges but never with the intention of hurting an opponent.

He has shown a real lack of class, to me and the fans.

We do not hide from the disappointment of losing the match but I need to speak out about his behaviour.