When you look back on all the upper variations and colourways, it's hard to believe that the adiZero name is only two years old.
Originally launched for the 2010 World Cup in South Africa, adidas now look forward to the 2012 European Championships with the F50 adiZero – Infrared / Bright Blue.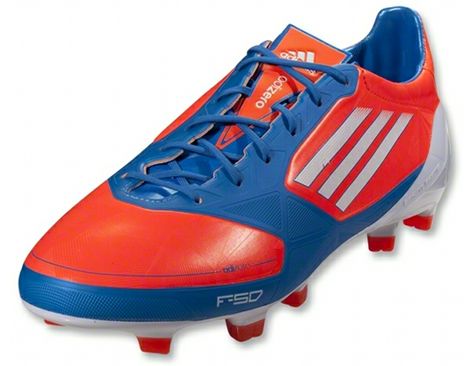 Having already made their debut on the feet of Arjen Robben and Solomon Kalou at the 2012 UEFA Champions League final, we don't need to tell you that these boots are Bright with a capital 'B'.
Whilst we've seen adidas use their 'Infrared' colour before – particularly on the adiZero range – we don't think it's every looked as stand-out as it does on the F50 adiZero – Infrared / Bright Blue, which – along with the adiPure 11pro and Predator LZ – make up adidas Euro 2012 range of football boots.
As a silo that has gone from strength to strength since it's launch, the F50 adiZero stable of players will be one of the most well-populated in Poland & Ukraine 2012.
A boot for strikers like Karim Benzema and Lukas Podolski as much as it is for pacey midfielders like Ashley Young and David Silva, the adiZero's 165g weight have made it one of the most versatile and popular soccer cleats on the market.
Using a super-flexible 'Sprintskin' upper, the adiZero can bright great touch and comfort with a negligible weight, whilst an internal and external SprintWeb makes them supportive and well-fitting.
A Sprintframe soleplate and Traxion 2.0 stud system ensure exceptional grip on any surface, whilst the unique triangular shape of the studs ensure efficient and stable ground penetration.
Launching on June 1st, expect to pay around £150/ $220 US for a pair of the Euro 2012 edition F50 adiZero – Infrared / Bright Blue.
Another great colourway for the adiZero? Or a wasted opportunity?
Let us know in the comments!
F50 ADIZERO – EURO 2012 – INFRARED / BRIGHT BLUE, 8.9 out of 10 based on 58 ratings