While the focus of attention at Real Madrid today will be on the unveiling of world record signing Cristiano Ronaldo, Footy Boots can bring you an exclusive image of Madrid's other major brand poster boy, Kaka.

Kaka's move to Madrid is a good one for adidas who were also the shirt suppliers to his former club AC Milan. So you can expect a flurry of adidas PR activity like this around the Brazilian international, particularly with his Portuguese team mate being such a high profile star for Nike.
In addition to wearing the adidas Real Madrid shirt, Kaka will continue his association with the German brand through the adiPure II.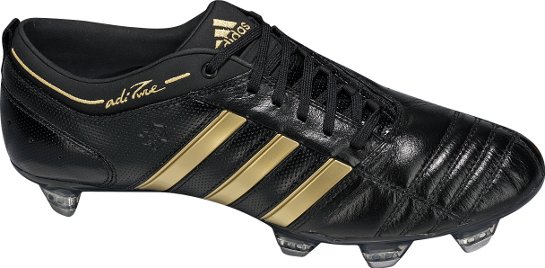 Kaka wore the boot in Black / Met Gold when playing for Brazil in the recent Confederations Cup competition in South Africa but went for a one-off pair in White / Black when he was formally introduced as a Madrid player in front of 55, 000 fans last week.
As far as catching Kaka in action, there's a chance that you won't have to travel to Spanish capital to see him and his new team mates warm up for season 2009 / 2010.
The club are embarking on something of a mini tour, including stops in Toronto, Washington and Ireland as well as a home game against Milan in late August.