The weird and wonderful world of the football shirt industry produced a mixed selection of stories in this past week.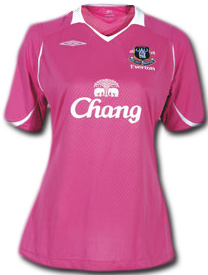 As documented in the last two football shirt round-ups, many clubs have suffered problems due to the credit crunch crisis including reigning Premiership champions Manchester United and Gianfranco Zola's new team West Ham United. Joining the list are Wigan Athletic who have become the latest top flight team to receive unwanted sponsor difficulties due to the economic catastrophe.'  Sponsored by the sportswear company JJB, uncertainty looms over the future of their partnership. The Wigan chairman Dave Whelan founded JJB and hence titled the club's stadium as The JJB. However due to huge financial losses and a plummet in share prices, a new sponsor may have to be found for "The Latics".
On an entirely different note, Wigan's Premier League rivals Everton FC have unveiled another shirt for this season. In support of the Breast Cancer Campaign, a pink shirt will be available for all fans to purchase. The limited edition shirt follows on from last year's unprecedented success when they released a similar pink selection. "Last season was a hugely successful campaign but this time around we want to make a bigger splash with our fundraising efforts," said Ian Ross, Head of PR at Everton. "The launch of the new pink shirt gives us the opportunity to give something back to the community and hopefully make a difference to the work these charities undertake on a daily basis." As well as the Breast Cancer Campaign, a contribution of the proceeds will go to two more of Everton's chosen charities, the NSPCC and Everton in The Community.
Whilst some players may not like playing in pink, not many would object to their club honouring their personal achievements. However Brazilian legend Romario is currently considering legal action against his former club Vasco de Gama and manufacturers Reebok who without his approval have produced special edition shirts that celebrate the 1000 goals the striker scored in his career. According to Romario's lawyer, the former Barcelona star has the rights to produce such a football shirt, and these shirts are not covered by the contract agreements made.
For all the latest news and stories regarding shirts, visit FootballShirtCulture.com.
By James Bailey