If Steve McClaren's men fail to qualify for next season's Euro 2008, it will not only be the England manager who finds himself in hot water.
England's hit and miss Euro qualification campaign has cranked up the pressure on McClaren and even seen the release of a 'Taxi for McClaren' t-shirt, which you can buy here at the Footy Boots Shop.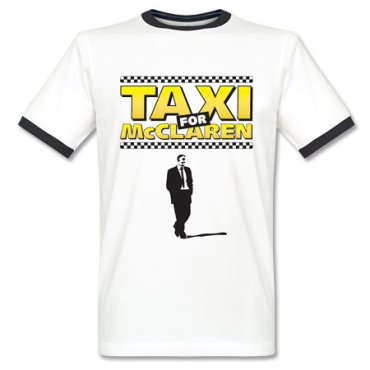 Whilst the England manager cowered in his bathroom during the final minutes of Israel's narrow 2-1 win over, the business community contemplated the potential loss of a £1 billion summer bonus.
Involvement in a significant tournament sends the nation's fervour soaring and that means open wallets on the high street. The British Retail Consortium estimates that last year's World Cup boosted UK retail spending by more than £1 billion. If England fail to secure a draw with Croatia at Wembley tomorrow and miss out on Euro 2008 qualification, more than £500 million would remain unspent. At the very least, pubs, clubs, off-licences and the advertising and gambling industries would miss out on some £600,000 of spending.
As reported in a Footy-Boots.com article in September, England shirt supplier Umbro anticipates a disastrous 2008 should the Three Lions not make the trip to Austria and Switzerland next summer. The football boot brand expects to lose £15 million of profits if the team do not qualify.
Though the Football Association has the relative security of long-term broadcasting and sponsorship deals worth more than £500 million, it is estimated that a summer off would have cost the FA £10 million through loss of ticket revenue, merchandising and 45 licensee arrangements with commercial partners.
McClaren's unscheduled dash to the toilet raises the question of whether he can handle pressure situations. Will he crack under pressure if the England team is staring down the barrel of defeat in the last ten minutes of Wednesday's final Euro 2008 qualifying match?
One of his managerial counterparts, Arsene Wenger, has backed England to qualify provided McClaren is prepared to make some brave decisions, and change his system. Wenger believes England can clinch a place in Euro 2008 by employing a five man midfield, with Steven Gerrard lining up alongside Frank Lampard and Gareth Barry, with David Beckham and Joe Cole on either flank.
The Arsenal manager said: "I know England have most often used 4-4-2 but I feel there could be an innovation on Wednesday. But I'm not Steve McClaren and I leave that choice to him. I personally think it will be 2-0 to England. That will put them top of the group and then you cannot say they have under-achieved!"
Having said that, Wenger believes Croatia's statistics prove they will be a tough opponent at Wembley and should not be underestimated. He added: "From the outside it looks as if England has an easy task – but it's not. There are only two factors when a team has nothing to play for: are they very easy to play or are they extremely difficult to play. I would be temped towards the second solution. Croatia just lost a game but are still qualified. There is no special pressure and Wembley has a special aura in the whole of Europe. Nobody wants to miss that kind of opportunity to play a good game. I think it is a very dangerous game for England. Also you cannot go into a game like this only trying to draw it, you cannot give that kind of message to your players. So you have to prepare the game like you want to win it but knowing that a point is enough."
Will McClaren oversee an England draw or victory to send England through to next summer's Euro 2008 or will he be the first manager since Graham Taylor in 1994 (USA World Cup) to fail to lead the Three Lions to a major competition? Remember to click here to buy your special 'Taxi for McClaren' t-shirt.