Baselayers have become an integral part of most player's kitbags this time of year, and Nike have produced 'the 'Rolls-Royce' of them in the Nike Pro Combat Hyperwarm Shield. But does it stand up to the rigorous Footy-Boots.com review? We take up the case…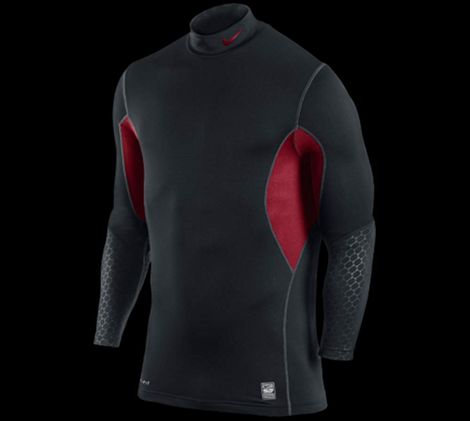 If you're reading this in the northern hemisphere, chances are it's pretty chilly out right now.
In fact, scrap that. It's bloomin' freezing outside the windows of Footy-Boots towers as I type, and no amount of knitwear or cups of tea will keep my skinny frame warm.
So, if that's the case here at my desk, the thought of early morning trips across the North of England first thing on a December morning certainly made me think that perhaps the Spaniards are on to something with the whole 'Winter Break' idea (not that their genius plan of living closer to the equator wasn't enough…).
But here to alleviate some of my temperature-based dread is the new Nike Pro Combat Hyperwarm Shield baselayer.
Building off of last year's popular Hyperwarm Shield mock, the new Shield adds the addition of waterproof material on the forearms, to stop you getting soaked to the skin and keep you comfortable for longer.
Does it work? Let's find out:
Comfort/Fit – 10/10

Nike's flat-lock stitching is practically undetecable
Whilst technically a 'compression' fit top, the new Nike Pro Combat Hyperwarm Shield is actually a little loose fitting; the idea being that rather than wicking away sweat, the top regulates body temperature by trapping warm air close to the skin.
Aside from a looser-than-expected fit, everything else is true to size. The arms are skin-tight in the forearm, but loosen up towards the shoulder to accommodate various statures and the whole top is plenty long in the body.
The flat-lock stitching is practically undetectable and Nike have got the mock-neck fit down to a tee – which is to say you won't even notice it whilst you're playing.
Warmth – 9/10

The micro fleece lining makes this one of the warmest baselayers around.
Rather than a simple spandex baselayer or the 'towelling' used by competitors Under Armour, the Nike Pro Combat Hyperwarm Shield employs a straight up micro fleece (which you can hopefully see in the photo above.
As you can guess, this means the Nike Pro Combat Hyperwarm Shield is very, very warm. If you love to be warm whilst you play, then this really is one toasty piece of kit. However, I did sometimes find it a little too warm, and would often shed it at half time.
Waterproofing – 7/10

Water does sit on top of the material, but will eventually soak in.
An interesting addition from Nike, and one that works surprisingly well. The arms of the Nike Pro Combat Hyperwarm Shield are coated in 'scales' of a moisture-repellent coating, which not only looks the business, but genuinely keeps moisture off your skin.
Don't expect water droplets to just slide off your arms, though – the material will still absorb water if it's sat on the sleeve for too long (see picture) – which can add to the feeling of weight from the baselayer. But I can comfortably state that I never felt 'soaked to the skin' whilst wearing the new Hyperwarm Shield.
Design – 9/10
Not something that's particularly important, but worth a mention. Nike have not only created one of the best-looking baselayers on the market, but also one of the most cleverly designed.
The ventilation is not only in all the right places, but the distinctive vents make it easy to spot whether your favourite player is wearing the same baselayer as you.
Overall – 9/10
Good-looking, comfortable, warm and waterproof; the new Nike Pro Combat Hyperwarm Shield is everything you could want from a baselayer.
As a hard-working (ha!) midfielder, I did find that by half time I was warm enough to take this baselayer off – but for goalkeepers and 'off-the-defender's-shoulder' strikers, you will get more than enough 90-miunutes out of the Hyperwarm Shield to justify the £34 price-tag.
Nike Pro Combat Hyperwarm Shield
Version tested: Nike Hyperwarm Comp Shield Mock 1.2 – Varsity Red/Black
Price: £34.99
Worn by: Wayne Rooney, Andres Iniesta, Wesley Sneijder.