Just an update for all you Limited Edition boot fans and collectors out there; the all-red England Speciali are out for release now!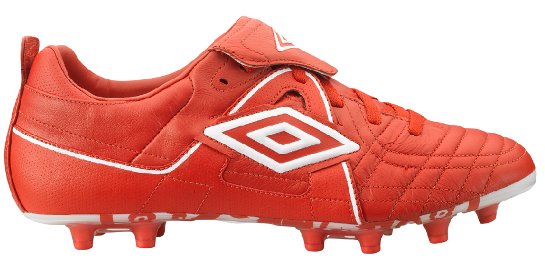 We got a lot of interest when we first featured these late last month, and with only 300 pairs being, made we thought we'd best put something up on the front page to remind everyone that they're available now! You can never say Footy-Boots.com doesn't look after you!
These limited edition boots feature the England crest on the soleplate, have an upper made from super-soft K-Leather and will come in a collector's box.
They are expected to retail at £120 but interested parties will have to act quickly!
Umbro has announced that the likes of John Terry (and possibly Darren Bent if selected) will be wearing these all-red Speciali football boots for the first time when England take on Egypt at Wembley on March 3rd.
These limited edition Speciali's continue the excellent run that Umbro has enjoyed over recent weeks which has included Darren Bent's 'Dynamite' boots, Deco's'  'Believe' foot wear and the customised sole plates as worn by John Terry and Michael Owen which were the result of a highly successful on-line design competition.
Along with the Speciali, Umbro revealed the 'change' goalkeeper's jersey for the campaign.
First off, the goalkeeping jersey comes in a striking yellow colour and has been designed and manufactured in the same way as the outfield shirt. It's composed of three separate panels which should help the players perform to the best of their abilities.
We think it's a great alternative to the classic 'Forest Green' of the home keeper's kit, and the white cuffs really top it off!
Tell us what you think below, or tell us on our Twitter account!