It's a big day on Footy Boots as we welcome two new contributors to the team as well as featuring the latest football shirt news.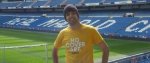 Football coach Omar Saleem, soon to depart the UK to work in New York, argues that collecting mountains of cash for endorsing football boots can also be damaging to your career.
Meanwhile 22 year Kyle Elliot has some great advice for anyone out there who is considering buying a new pair of football boots to see them through the remainder of the season and beyond.
Both Omar and Kyle along with a few more new names will be writing regularly for our brand new 'From the Sole' column, providing opinion and advice based on their individual experiences of buying, testing and playing in new boots. As always, you will be able to interact with our columnists through the comments section as well as providing them with feedback and information.
And, along with all of that, James Bailey has the latest update on Manchester United's shirt sponsorship and details on a new kit based on a 100 year old design.