The new season colourway-onslaught continues, and this time it's Italian brand Diadora getting in on the action with two new looks for the excellent the Evoluzione K Pro.
The Diadora Evoluzione K Pro has had it's profile raised significantly over the past few months or so, as Antonio Cassano gave a string of solid performances up front for Italy wearing them all the way through Euro 2012.
The distinctive Black / Fluo Yellow stripes of the launch colourway definitely set them apart from most other boots on the pitches of Poland and Ukraine, and now it looks like Diadora are set to capitalise on that boost in visibility with two great-looking new colourways.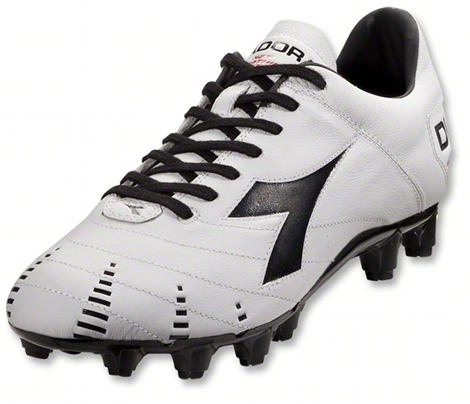 Always a favourite with traditionalists and flair players alike, the White / Black colourway is definitely the more crowd-pleasing of the two additions to the Evoluzione K Pro line-up.
Whilst lacking the 'pop' of other colourways in the stable, the monochrome version of Diadora's latest definitely look sleeker than they ever have before.
Contrastingly, the Powder Blue / Red version is entirely unlike any other colourway on the market on any boot (with the exception of the White / Blue / Red Umbro Geometra Pro, perhaps).
The light Powder Blue is definitely a stark contrast to the strong Red, but somehow Diadora have managed to make it work!
Despite their drastically-different exteriors, the same excellent feature-set runs through both of these Diadora Evoluzione K Pro's.
As well as a supple K-Leather upper, the soleplate is packed with enough technology to make your iPhone just a little jealous, including:
– Removable anatomically shaped EVA insole for shock absorption and comfort.
– Perforated NET Breathing System provides additional ventilation for the foot
– Multi-density PU outsole with 14 fixed studs for optimum traction.
– Synthetic fiber net and breathable, waterproof membrane improve breathability while keeping the shoe clean and dry.
– Bi-density Axeler system improves forefoot propulsion and ensures maximum stability.
All in a 272g / 9.6oz package that'll set you back $159.99 in the US from this week, with a European release expected by the end of the month.
What do you think to the new Diadora Evoluzione K Pro colourways?
Let us know with a comment, below!