One of the most under-rated 'speed' football boots on the market gets a brand new outlook for the end of 2014 with the Diadora DD-NA 2 – Fluo Orange / White.
You could perhaps accuse the Diadora DD-NA 2 of being a little shy in the colour stakes, given the end of the spectrum that lightweight football boots usually occupy, but this bright 'Fluo Orange' paint job should be just the job in getting them noticed.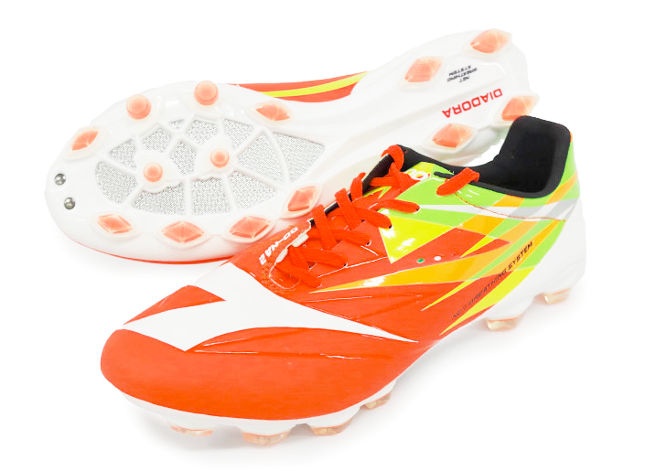 So what does the Italian brand's speed boot have to offer, and why should you care?
Well, for starters, the weight of the Diadora DD-NA 2 is a mere 175g. Typically, speed boots from brands outside of the 'Big Three' tend to be upwards of 200g, but Diadora have pulled off some impressive construction techniques to bring that weight down to compete with the adizero, Mercurial and evoSPEED ranges.
In the fit stakes, they're one of the few lightweight football boots we'd recommend for wider feet, with a flatter, more voluminous toebox for those with big hooves.
This is only amplified by the SuprellPro3L synthetic upper. We've gathered some feedback from players all over the world, and the bottom line on this is Diadora have a real winner on their hands with this material.
The Pebax outsole also boasts Diadora's proprietary Net Breathing System, which sits in between the 14 stud soleplate.
Comprised of layer-upon-layer of mesh and membranes, the Diadora DD-NA 2 is actually clever enough to keep out water and dirt from the pitch, whilst letting sweat and heat escape out of the bottom of the shoe.
Best of all, a $150 RRP in the US makes them a great boot for players on a budget.
What do you think to the Diadora DD-NA 2 – Fluo Orange / White?
Let us know in the comments!
Diadora DD-NA 2 | Fluo Orange / White, 8.6 out of 10 based on 15 ratings