England and Aston Villa front-man Darren Bent has never been one for shyness, and now Umbro have helped him reflect that with some super-bright new Speciali R's!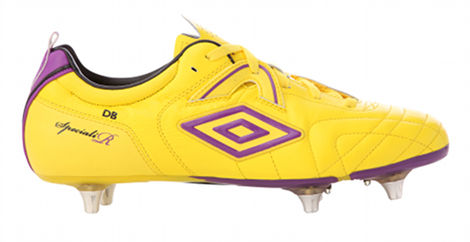 In an unmissable Yellow / Purple colour combo, these Speciali R's are really going to stand out on the pitch – especially on the feet of a forward like Bent.
Whilst the word from Umbro is that they won't be retailing this version of their popular Speciali R (they're concentrating on promoting the new Speciali III), you'll be able t0 see these football boots when Darren bent and Aston Villa take on Arsenal in the FA Cup on Sunday.
How did such an unlikely colourway come about?
Well, Umbro say the former Sunderland and Tottenham Hotspur striker asked them if they could start producing some more brightly coloured football boots – so they went away and made these!
Speaking of the boots, Bent said: "I've always wanted some boots that are a bit more out-there, and Umbro have certainly produced the goods with these ones. I'm looking forward to wearing them"
"Umbro boots have always been really comfortable, they're probably the most comfortable boots out there, and then they've done this yellow and purple colourway just for me, and they look fantastic, so I'm really pleased. With the colours, I just liked the look of them, I liked how out-there they are. You can't sit on the fence with these ones!"
There can be no doubt that his new football boots will be something to look forward to on Sunday, but do you think Bent and Aston Villa can overcome the might of Arsenal?
Let us know in the comments!