Barcelona's'  right back Dani Alves is reportedly finally ready to end the speculation and sign a new boot deal – but has warned football boots brands not to contact him until after El Clasico this weekend.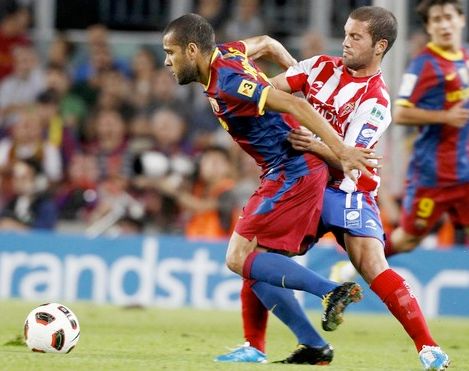 The marauding right-back has stirred up much intrigue among boot-spotters, having inconsistently worn blacked out versions of some of the best speed boots on the market.
Previously a loyal Mercurial Vapor Superfly wearer, Alves began blacking (and Yellowing!) out hos boots of choice to conceal the Nike branding; which is usually a sign that a player is up for negotiations with a football boots sponsor.
Most interestingly, Alves has also been spotted on multiple occasions wearing the adidas F50 adiZero (usually the leather version) again, usually disguising the branding as best as as possible (though recently he seems to be happy playing in them 'as is') – though when we contacted adidas they confirmed that they had not supplied Alves with the boots.
It finally seems, though, that Alves is ready to make a decision on his equipment sponsor – but reports say he will only listen to offers made after Barcelona's titanic clash with Real Madrid this weekend, meaning we may have to wait until the new year to finally find out what Alves' will be paid to wear on his feet.
We definitely respect Alves' wish to be distraction free for the game this weekend (and it's the last game he can potentially wear the boots he REALLY wants to wear) so kudos to him for taking his choice in football boots so seriously.
What do you think Alves should be wearing? Stick with Nike or join team-mates Lionel Messi and David Villa on the adidas F50 adiZero?