Last week, we brought you preview of a new film – Castrol EDGE Presents Ronaldo Tested to the Limit. Last night in Madrid, a select audience – including Ronaldo himself – got to see the finished result at the World Première!
The film sees Cristiano Ronaldo pushed to his physical and mental limits under the sort of scrutiny even the harshest of pundits could never provide.
Using bleeding-edge technology, including laser tracking, pupil monitoring and 3D animation, this film, developed by the brains behind the Castrol Stats, aims to give us an unparalleled understanding of what makes a top athlete like Cristiano Ronaldo on of the best in the game.
Last night saw the Premiere of the film as the Red Carpet was rolled out for Ronaldo in Madrid.
The Real Madrid star and Castrol EDGE global ambassador fuelled excitement at the Palacio Vistalegre arena in the south of the city by making his entrance to the drive-in première in an Audi R8 Spyder driven by the champion of the Castrol EDGE powered 2010 VW Dakar Rally and avid Real Madrid fan Carlos Sainz.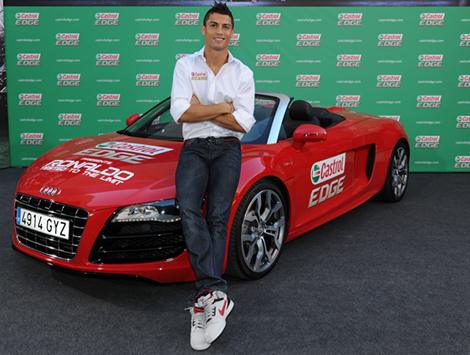 Ronaldo joined over a thousand football fans inside the venue for the first ever viewing of the unique film-documentary, which sees the Portugal and Real Madrid forward push himself like never before in the most rigorous scientific examination of a player ever undertaken.
Ronaldo was joined at the première by Poland and former Real Madrid goalkeeper Jerzy Dudek, who features in the challenges in the film, and took to the stage to introduce the film-documentary to the audience.
Cristiano Ronaldo commented: "To be at the première of this Castrol EDGE film is a great experience. To finally see it on the big screen is very exciting. I'm used to an audience when I'm on the pitch but this is the first time that people will see what goes on behind closed doors. They will see the strength it takes to perform at the highest level. This film is about what gives me the edge and I hope that my fans enjoy it."
For more information visit castroledge.com/ronaldo