Craig Johnston has written a 12 page open letter to Sepp Blatter of FIFA. In the letter, Johnston slates the new Jabulani ball and explains why using it at the World Cup has been such a big mistake.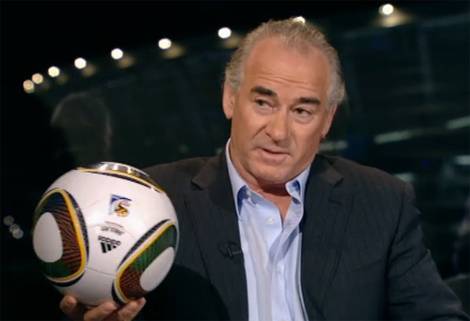 Craig Johnston is arguably one of the forerunners of this new age of tech-obsessed football, having been the creative mind behind the adidas Predator range & X-Traxion stud systems.
So, when he talks about the technology in use in football equipment, people tend to listen; and squarely in his firing line is the adidas Jabulani World Cup football.
Now, we know we've done the Jabulani debate to death here at Footy-Boots.com, even having you guys get involved in a poll – but Craig brings up a lot of points that we thought would give rise to some good debate. Here's some of the best points Mr Johnston makes:
It is very alarming that the best players and teams in the world are struggling to control this ball to their own satisfaction.
What is even more alarming than the players˘€žË˜ assessment of the ‹Ĺ›bad ball˘€žË˜, however, are the statistics of'  ‹Ĺ›bad play˘€žË˜.
What this means to the quality of this tournament in South Africa is quite shocking.
The statistics are showing that is the worst passing, shooting and controlling of the ball of any World Cup in history of the competition.That cannot be ignore and it cannot be fixed up later, as we are being told.
Craig also goes on to question how many goals we've been denied in this tournament – even suggesting that replacing the Jabulani is more imperative that current hot-topic Goal Line Technology.
There was a furious global public reaction to Frank Lampard˘ goal against Germany that was denied by the officials.
By my calculations we have been denied at least 10 more goals that were not scored in this World Cup so far, because of the erratic and unstable flight of the Jabulani football..but nobody is jumping up and down'¦yet'¦!
Who is taking responsibility for denying us these goals and bits of magic.
To make a get a goalmouth call wrong and make a mistake happens once or twice a year.
To get the actual football itself wrong, affects every single touch, pass or shot that a player makes, in every single game..
The Ex-Middlesbrough & Liverpool man also offers up a solution:
From day one I have been saying that there is a simple solution and back up plan for this World Cup. You can easily apply exactly the same Jabulani ball graphics onto the traditional construction of your sponsor˘ previous Buckminster construction World Cup balls.
Two of the best footballs ever made were made by your sponsors…The Fevernova and the Tricolor Ball from the Asian World Cup and French World Cup˘ respectively'¦
The normal Buckminster construction has given us every glorious moment of football we can ever recall…
Well – when he started mentioning older adidas World Cup footballs, we couldn't help but nod in agreement – the Fevernova was excellent!
And what about the EuroPass? In last European Championships we can't remember any complaints!
Anyway – what do you think of Craig Johnston's opinion on the Jabulani?
A man who really knows what he's talking about, with some good solutions? Or an overreaction? After all, after Van Bronkhurst & Forlan's goals last night, we're thinking that players are finally getting the hang of the Jabulani!
You can read the full 12 page letter here: Craig Johnston's 12 page letter about the Jabulani.