Copa América – The Oldest National Teams Tournament in the World
Even though in Europe this summer no major tournament is taking place, elsewhere across the globe, international teams are set to battle it out for two major football prizes – firstly the Copa América and then the Asian Cup. Both tournaments give Footy Boots fans the chance to see players wearing older model football boots and more obscure football boot brands, as well as the lesser brands that are more than represented during the matches, especially where players are not tied to any sponsorship deals and actually choose the football boots they play in.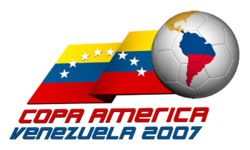 Footy Boots brings you the run down of both events starting today with the Copa América. This tournament promises to be a feast of football for any fans suffering hunger pangs while they wait for the new season to start and a great chance to see some new premiership signings to boot!
Copa América 2007 Venezuela
The 42nd Copa América 2007 is the main international football tournament for South American football teams, featuring 12 teams, being held for the first time in its long history in Venezuela. It is organised by CONMEBOL, South America's football governing body. Although the event is primarily for South American teams, the United States and Mexico are playing as invitees. Argentina and Uruguay, with 14 titles each, are the greatest winners of the main tournament in the Americas. The last tournament, which is held every two years, was held in Peru, with Brazil running out the winners following an epic final against Argentina, won by Brazil in a highly charged penalty shoot-out.
Copa América 2007: The Facts
Location: Venezuela
Date: June 26 – July 15
Teams: Venezuela (hosts), Uruguay, Peru, Bolivia, Brazil (holders), Chile, Mexico, Ecuador, Argentina, Paraguay, Colombia, United States
Format: Teams split into 3 groups, playing each group member once. The top two from each group and the two next "best finishers" go forward to the knock-out quarter finals.
Final: July 15th
Venue: Estadio Jose Pachencho Romero Maracaibo (21:05 GMT)
Copa América 2007 Results and News
The tournament started with a shock win perennial whipping boys Peru overcoming strongly tipped Uruguay 3-0 in the opening game, with Nike Mercurial Vapor III wearing Paolo Guerrero grabbing a late goal. Even more of a surprise was Mexico's hammering of Brazil 2-0 with goals from Ramón Morales (Adidas F50 Tunit) and Nery Castillo (Puma v-Konstrukt) although much has been made of Brazil's missing players: Ronaldinho and Kaka are too tired whilst Lucio and Adriano are injured, and Ronaldo and Dida have not been called up to the squad. Favourites Argentina spanked the United States 4-1, fielding a strong team featuring Messi, Crespo (now wearing Umbro football boots), Tevez and Aimar and look a hot bet for the top prize. Upcoming matches looking tasty include Colombia v United States and Argentina v Paraguay.
Let us know which football boots you have spotted being worn in the Copa América 2007!