With a huge influx of exciting new talent landing in the league this season, having a hard time standing out would be a problem for a lot of players.
Not so for Danish international Christian Eriksen.
The playmaker has made his first season at Tottenham Hotspur a memorable one, establishing himself as a creative force to be reckoned with from both open play and with wicked delivery from set-pieces.
A perfect match, then, for the new Nike Magista. Designed around the needs of creative players, we caught up with Christian to see how he felt about wearing Nike's unorthodox new boot.
---
– Hi Christian! What were your first thoughts when Nike showed you the Magista? Were you surprised by the shape?
Yeah, I was really surprised! I thought they might just change the colour or something like that.
At the time they'd just released the Hypervenom, so I knew Nike were working on new technology for boots, but I didn't think it would be as different as it is.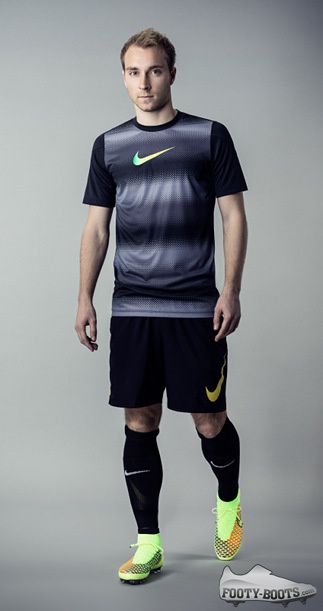 – Flyknit is a key part of the design, and a lot of readers on the site were worried about how waterproof it would be, did you have similar concerns?
No, I'm always sure that Nike will take care of things like that!
They do so much testing with all of the products and the NIKESKIN that is placed over the Flyknit means there's no problem with water.
– You were one of the lucky players who got to wear the GS2 late in 2012 – is it exciting when Nike bring something new for you to try out like the GS and Magista?
Yeah! It's always exciting when Nike trust in you and they want to give you something new to try out.
To be one of the few players who get to wear a new boot is really an exciting thing to be as a player, especially when they're like the Magista and the GS2 – which was a great boot, too.
– You sound like you remember a lot about your boots€¦
I do!
– Speaking of – you've worn the Mercurial for a lot of your career, which is celebrating some iconic colourways this year – do you have any favourites?
Favourite€¦I don't know which one would be my all-time favourite€¦ probably one of the first ones I wore, I think – they were Black with a Red swoosh, the Mercurial Vapor IV –
I'm pretty sure that would be up there because it was one of the first I wore.
– Are there any pieces of personalisation you have on your boots that are special to you?
Not really! I have the Danish flag, and my surname in case I need to remember they're mine!
I also try and have a few pairs of boots on hand; I have a superstition: in winter I'll sometimes go for a boot that's a little bit bigger when it's cold and a tighter boot for when it's hotter in the summer.
– You've made a big impact with your set-pieces this year; what free-kick tips would you give to players who want to hit a dead ball like you?
Of course I'd say to take it like me – but I think it's about establishing your own style.
Everybody knows when they hit a free-kick properly, you get that feeling of getting the best contact with the ball; try to remember that feeling.
Think about the positioning of your feet and body after that attempt and try to remember it, and recreate it – everyone has that feeling when they strike the ball well and you know it's a good free-kick, find that and work from there.