Adidas Launch New Chelsea Yellow Away Kit
Adidas has revealed the new Chelsea away kit, launched by John Terry, Didier Drogba and Michael Ballack. The yellow kit is a marked change from the white of last season which saw Chelsea's dismal away form contribute to handing the Premiersip to rivals Manchester United. The new Adidas kit is not just a pale understated dignified yellow, but this is a bright, stand out from crowd, highlighter pen, canary yellow that Chelsea hope will scare the opposition into rolling over and handing them victory whilst they are on their travels away from West London.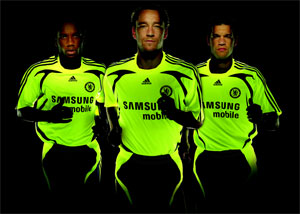 All we need to see now is Chelsea players in the new yellow away kit wearing yellow Nike Total 90 Laser football boots – if the sun hits the football boots and kits at the right angle, the opposition surely be blinded into defeat or set on fire – either way the Premiership will be Chelsea's!!
Read more Adidas articles.