It's the start of a brand new season, and what better way to kick things off than with a new pair of football boots?
After a summer packed full of mind-blowing releases, there's bargains to be had if you don't mind getting the ball rolling in an older colourway or model.
The last time we went Ballin' On a Budget, we scoured the marketplace for top-tier releases for under £60.
But this time out, we're after cheap football boots – and that means we're hunting for the best bargains under £50.
Normally, this would be a challenge, but Kitbag.com have an almost-unbelievable 33% off sale boots, and you won't believe what boots can be had for as much as £100 off the RRP.
As always, the following stipulations to get listed in Ballin' on a Budget apply:
– Must be under £50
– Be a top-level 'statement' boot
– Have some decent sizes left in stock
Let's Go!
 – PUMA evoSPEED 1 – White / Red / Limoges: £32.15 
Launched in time for Euro 2012, the evoSPEED 1 might seem old hat with the new evoSPEED 1.3 hot off the release list, but the OG version still packs DuoFlex tech in the soleplate and EverFit cage.
– Umbro Geometra Pro – White / Brilliant Blue: £32.15
In many ways the perfect control boot, the Umbro Geomtra was one of our favourite releases of 2012, with a K-Leather upper and tactile pass and receive zones.
– adidas f50 adizero miCoach – Black / Lab Lime / Metallic Silver: £37.51
A favourite colourway of Gareth Bale in his last season with Tottenham Hotspur, the leather version of this cleat is a definite favourite with f50 fans.
– Warrior Skreamer K-Lite – Black / Spicy Orange: £37.51
Another player-favourite, the K-Lite version of the Warrior Skreamer was preferred by Manchester City signing Fernando in his time with FC Porto – and with a Carbon Fibre soleplate and K-Leather upper, why wouldn't it be?
– PUMA evoSPEED 1K – Jasmine Green / Blue: £40.19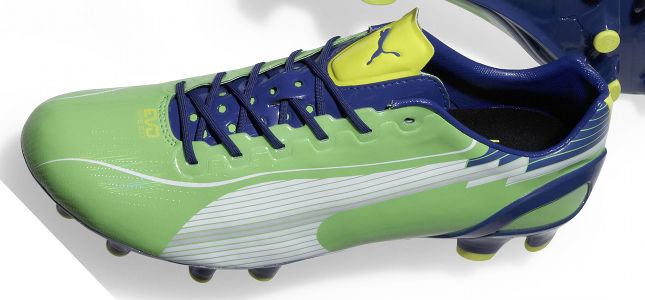 As above, but in a newer colourway and boasting a K-Leather upper. What's not to love?
– Nike Tiempo Legend IV – Clash Collection: £42.87
Only a couple of what we would call decent sizes left, but we had to make an exception for these as they're a stone-cold classic. Honestly, we've seen them go for more than this on eBay.
– Warrior Gambler K-Lite  – Black / Mean Green: £43.84
One of the most straight-up overlooked releases of Warrior's line-up, the Gambler K-Lite is mean, moody and packs a K-Leather forefoot with mesh-based rear quarter for a level of control that's downright nasty.
– PUMA King – Blazing Yellow / White: £46.89
Still in use by many players right now, the current version of PUMA's legendary King was debuted by Yaya Toure back at the start of 2013 in this colourway.
– PUMA King – White / Ribbon Red – £48.89
Same boot, different colourway and a whole lot more sizes, this edition of the King was released in Bayern's colours for Dante to wear in the 2013 Champions League final.
– PUMA PowerCat 1 Black / Flue Yellow: £50.24
One of the last PowerCat colourways, this was also debuted in the 2013 Champions League final on the feet of Marco Reus. Packed with tech and with a top-tier leather upper, these are no antique – making them well-worth going 24p over budget for.
Big Ballin': Three Bonus Boots for under £75
If you've got some scratch, these are three boots still in use by top-flight footballers right now, making them just straight-up bargains for anyone looking for a new pair.
– Nike Tiempo Legend IV – Sand / Atomic Orange: £66.99
– Nike Hypervenom Phantom – Hi-Vis: £66.99 (also available in SG)
– adidas Nitrocharge 1.0 – Samba Pack: £73.69
Can you find any better deals out there at the moment?
Let us know in the comments!