Thank UEFA for the Champions League! Just when weeknights were looking inexorably dull, here comes an avalanche of the World's best clubs and their players to liven up our Tuesday and Wednesday – and to top it off, some of them were wearing some very eye-catching football boots!
Andrey Arshavin – Arsenal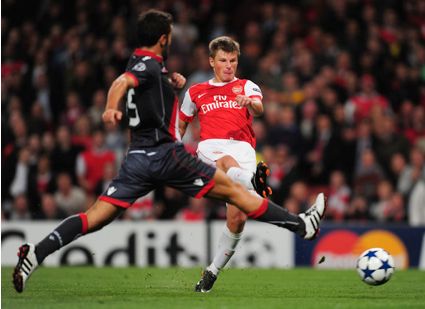 Diminuative Russian Arshavin provided one of the most interesting spots of the night, wearing his player-issue blackout- Superfly II.
We're not sure what made the forward change his football boots to this understated colourway, but perhaps we'll be seeing more of them as he was on great form last night; which would be no bad thing as we know how many of you love this monochrome colourscheme!
Zlatan Ibrahimovic – AC Milan
Zlatan once again creeps into our magic boot-spotting binoculars; last time we let you in on the secret that the big Swede was training in the Nike Tiempo Premier, and last night he started AC Milan's match in them, before switching back to his Cactus Superfly II
Out only guess would be that it was a decision based on comfort, perhaps Ibra has a niggling foot injury that he's nursing at the moment and wanted to see how it felt after 45 mins? If we find out, we'll let you know!
Daniel Alves – Barcelona
After flirting with the adidas F50 adiZero for a couple of training sessions, it seems that Alves is back in Nike, albeit very discreetly.
The Barca man is sporting a blacked-out Superfly I, with a bold pair of yellow laces – which might become a good-luck charm for the Brazilian after scoring a great goal against Panathanikos.
Luis Antonio Valencia – Manchester United
A horrible double-fracture of the left leg for Valencia punctuated a disappointing clash between Manchester United and Rangers on Tuesday night.
Valencia was wearing a custom pair of football boots, which feature the Predator_X's upper with a PowerSwerve soleplate, which has also been spotted on the likes of Robin Van Persie, Xavi and David Beckham.
Paulo Cesar – FC Sporting Braga – Big Thanks to Raul7Goal!!
Braga might have been put to the sword by Arsenal this week, but at least Paulo Cesar looked good doing it!
Cesar was sporting the new Mizuno Supersonic Waves whilst spearheading Braga's attack, which we reckon makes him the first player in the Champions League to do so!
Florent Malouda – Chelsea
The only boot-spotting triple we've ever seen happened last night, thanks to everyone's favourite boot-swapper Florent Malouda.
Malouda was clocked in the warm-up wearing black-out CTR360 Maestri's, before starting the match in Challenge Red T90 Laser III, and then seeing the game out in the CTR360 Meastri Elite!
Any that we missed?
Leave us a comment below with your best spots from this week!