In terms of boot-spotting, we had a great pre-season; players changing brands, new releases and black-out prototypes. It was an exciting summer in the world of football boots.
But even now, two months into the season, we keep discovering more ridiculously good boot-swaps and spots from top players across Europe!
Yaya Toure – Manchester City – Puma v1.11 Leather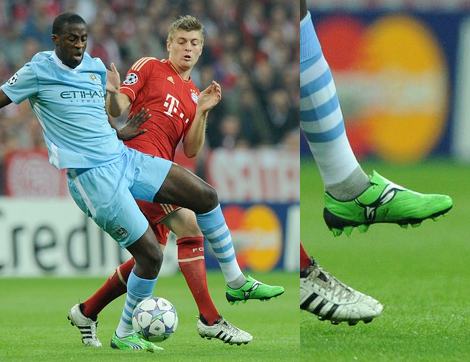 Thanks to Felipe for sending this spot in!
Toure has been on fine form since his move from Barcelona last summer, but his boots haven't exactly matched his gleaming performances.
The big Ivorian is customarily seen in a grubby pair of blacked-out Nike T90 Laser III Elites, but gave everyone a shock last night by being yet another player to wear the leather Puma v1.11 speed football boots. Could this be another high-profile signing for the big cat?
Cesc Fabregas  – Barcelona – Nike CTR360 II
After a move that stunned football boots-fans on Monday, when the Spanish international turned out in a pair of unreleased Puma PowerCats, Ceasc was 'back home' in an open training session with Barcelona yesterday.
The former Arsenal skipper could, however, just be sticking with his Nikes in public for the time being, given the high amount of photographers and fans at stadium training sessions like yesterday's, it would be unlikely that Puma would want their latest unreleased football boots being on display.
Daniel Sturridge – Chelsea – Nike T90 Laser IV
Looking every bit the striker he's got the potential to be this season, it's a surprise that there hasn't been more interest in Sturridge from the big football boots brands.
That could be about to change, though, as the English forward ditched his signature Macaw Green/White Champions League Predators for a pair of Nike's spanking-new striker's boot – the Nike T90 Laser IV.
Danny Welbeck – Manchester United – Nike T90 Laser IV/Nike Tiempo Legend IV Elite
Thanks to DDChile for this one!
It seems that Nike are looking to flesh out that portfolio of elite-club strikers in the new T90 football boots by convincing long-time Tiempo man Welbeck into a pair of the latest Lasers.
It seems that Welbeck's Nike T90 Laser IV's weren't quite broken-in though, as the 20-year-old was back in the Nike Tiempo Legend IV Elite in time to bag a two-minute brace against FC Basel.
Sergio Ramos – Real Madrid – Nike Tiempo Legend IV Elite – Blackout
Thanks again to DDChile!
Speculation continues to mount over Sergio Ramos' contract with Nike as the marauding Real defender blacked-0ut his football boots for a second consecutive game.
The World Cup-winner was spotted earlier in the week wearing the new White/Golf Tiempo IV's, but returned to the almost-anonymous Tiempos – presumably to send a message to Nike.
Nikica Jelavic – Rangers – Lotto Fuerzapura II
Okay, so not technically a Champions League boot-spot, but as the Lotto Fuerzapura II are so rare in the UK we had to include them!
Glasgow Ranger's highly-sought Croatian forward Nikica Jelavic christened his own Italian masterpieces with a goal against Kilmarnock last night, after switching from the Nike Tiempo range.
Esteban Cambiasso – Inter Milan – adidas F50 adiZero
Cambiasso's choice of football boots is almost as dependable as the Argentine's performance in the middle of the park, being a Predator man through-and-through.
Or so we thought.
The veteran midfielder must be looking to regain that extra half-a-yard in his formative playing years as he donned a pair of the new Anodized Blue/Slime/White adidas F50 adiZeros.
Dani Alves – Barcelona – ?
Final shout-out to our boy DDChile!
Dani Alves warmed up for Barcelona's clash with FC BATE tonight in a pair of myseterious blacked-out football boots ahead of tonight's UCL clash.
There's no doubt that Alves is an adidas man (he even wore an 'I Love adidas' Tee in the Nike-branded Barca press-conference) so an educated guess would be that the Brazilian international was testing out a new Prototype for the three stripes – the adiZero II we saw Messi in last month, perhaps?
Have you got any more boot-spots for us? Let us know in the comments!