Cesc Fabragas has shocked just about everyone on planet football (possibly everyone on the planet period, reports are unconfirmed) by training with FC Barcelona in an unreleased pair of Puma football boots.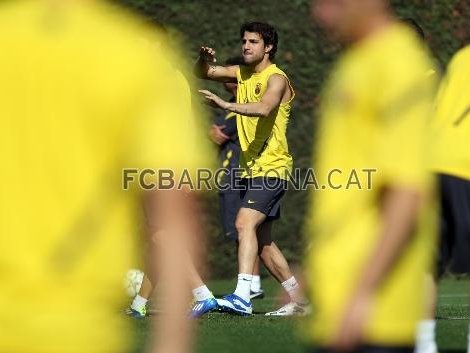 The Catalan midfielder has been in scintillating form for the Blaugrana since his switch form Arsenal, wearing his signature Nike CTR360 football boots.
But it seems that the Spanish international is looking to mark his change of club with a change of football boots too, as he was shockingly spotted sporting a pair of the unreleased Puma PowerCat 1.12's whilst in training for Barcelona's upcoming Champions League clash with FC Bate.
Fabregas has been training in a mystery pair of white-out football boots over the past 7 days, with many suggesting the playmaker was testing the new CTR360 III for Nike.
But now it looks likely that the 24-year-old midfielder was wearing some white-out football boots (possibly the Tiempo Legend III) to signal the end of his contract with the American brand.
The new Puma PowerCat 1.12's are certainly hard to miss in a bold Royal Blue/White colourway, and are likely what the likes of Manchester United's Phil Jones and Queen's Park Rangers Joey Barton has been spotted playing in.
Should Puma actually make a move for Fabregas, is would  cap off an almost-ludicrous 2011 for the German brand, who have also captured Sergio Aguero, Thierry Henry and Steven Pienaar to wear their football boots.
More on this incredible story as we get it, in the mean time stay tuned to Footy-Boots.com's Facebok & Twitter pages for the news as we get it.
Do you think Cesc could leave Nike for Puma?
Let us know in the comments!