Chelsea and Czech national goalkeeper Petr Cech has got sponsors arguing over his headgear once again.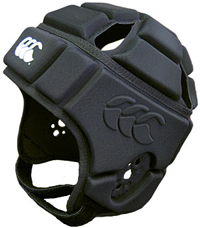 Petr Cech fractured his skull with an almost career-ending head injury, suffered back in October. In the Premiership game against Reading, he slid to reach a ball, the knee of Reading midfielder Stephen Huntand struck Cech on the head, resulting in the head fracture.
Cech now has a metal plate in his head and is still taking medication. He now wears protective headgear to reduce the chance of further damage.
Gentleman's Agreement
Cech reached a "gentlemen's agreement" with Canterbury of New Zealand, who makes the protective headgear, to keep the logo as Cech wanted to demonstrate his thanks for the prompt help that Canterbury offered him when he returned to football.
The Czech national team's kit sponsor, Puma, now want the logo covered in future games. Although Puma allowed Cech to wear the headguard in the International game against Belgium, they are now trying to force Cech to wear their own branded headgear in the future.
Cech has been wearing the headgear when playing for Chelsea, and Adidas, Chelsea's kit sponsors have expressed similar concerns to those of Puma.
Puma and Adidas are now trying to negotiate a compromise with Cech.